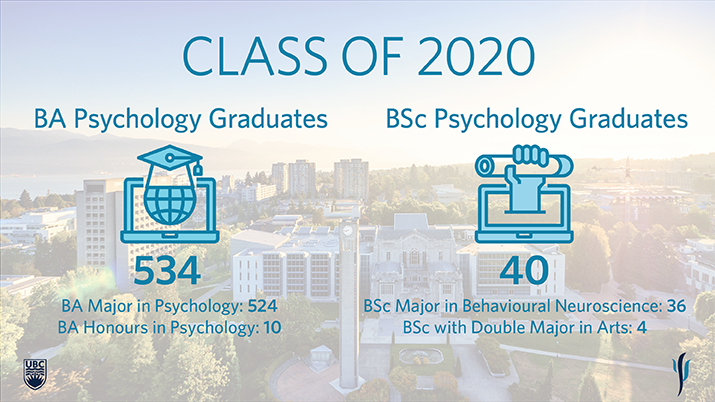 On June 17, 2020, over 550 psychology students will officially graduate and we couldn't be prouder. While we can't celebrate in person, we will be celebrating with our students at UBC's virtual graduation ceremony.
Join us in congratulating the psychology Class of 2020 for not only completing their degrees, but doing so during these unprecedented times. Throughout the COVID-19 pandemic, our students have shown resiliency and the ability to adapt and find new ways to connect and to learn. We wish them well as they embark on their next journeys!
Our faculty, sessional instructors, and teaching fellows congratulate the Class of 2020.
2019-2020 undergraduate student highlights
UBC's Psi Chi chapter received the 2020 Kay Wilson Officer Team Leadership Award. This prestigious award is presented annually to outstanding executives that demonstrate leadership, initiative, and commitment to their chapter.
Maggie Coval and Ava Ivkov advanced to the finals in UBC's Undergraduate 3 Minute Thesis (3MT) Competition. In the competition, students are challenged to summarize their complex research in easy-to-understand language, in only three minutes, in front of a live audience.
Our behavioural neuroscience students immersed themselves in a 3D tour of the brain using HoloBrain webVR technology in the course Introduction to Behavioural Neuroscience (PSYC 270).
Our students designed unique research questions and presented their finding at the PSYC 217 poster session.
Four honours students shared their research, their academic experience and why other psychology students should apply for the honours program.
Rachel Lee, an undergraduate Research Assistant in the Social Health Lab, joined UBC Arts for an Instagram Takeover featuring her RA experiences in A Day in the Life of a RA.
We salute our graduating students!