The Department of Psychology at the University of British Columbia is a leader in research and scholarship — with diverse rankings placing us among the strongest departments in the world.
Equity, Diversity and Inclusion
Our mission is to strive for a department community that is equitable, inclusive, and supportive to everyone.
Learn more arrow_right_alt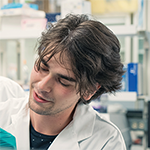 Almost everything involves human interactions; psychology is always relevant. Get involved, explore your passions, develop your skills, and see how you can incorporate those into your time in the department of psychology—and UBC more broadly—to stand out.
George Kachkovski
BA Psychology (Honours)