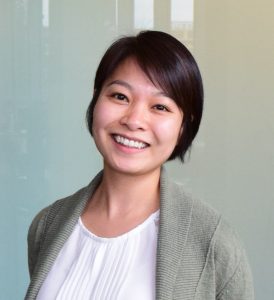 The Department of Psychology welcomes a new faculty member, Dr. Nancy Sin, as Assistant Professor in the health area. She joins us at UBC after having completed postdoctoral research fellowships at the University of California, San Francisco, and Pennsylvania State University.
Nancy's research focuses on the links between everyday life and chronic diseases and mortality. Her overarching goal is to identify aspects of day-to-day life that can be modified to promote health and well-being.
Today, Nancy takes the time to share her research, what sparked her interest in studying psychosocial well-being, aging, and health, and what she likes to do in her free time.
First of all, can you tell us a little about yourself?
I am a health psychologist focused on understanding psychosocial well-being and biobehavioural mechanisms underlying healthy aging. I received my PhD in Social/Personality Psychology with an emphasis on Health Psychology from the University of California, Riverside. I subsequently completed postdoctoral research fellowships in the Division of Geriatrics at the University of California, San Francisco and in the Center for Healthy Aging at The Pennsylvania State University. I was born and raised on the west coast (northern California), so Vancouver—the vibrant city, cultural diversity, outdoorsy lifestyle, and beautiful landscapes—already feels like home.
What kinds of questions do you try to answer through your research?
My primary research question is, "How do the ups and downs of day-to-day life influence long-term health and aging?" To answer this question, I examine physiological and behavioural pathways (such as inflammation, sleep, and physical activity) that may link daily experiences to chronic diseases and mortality. I am particularly interested in studying positive events in everyday life and whether they might buffer against the effects of stress.
Can you give us an example of this in our daily lives?
Minor stressors and positive events are common occurrences in daily life, especially in midlife when adults are juggling the demands of family and work responsibilities. In my research, participants have reported positive events such as spending time in nature, having a good conversation, receiving a compliment, and accomplishing a task at work or at home. Examples of stressful events in daily life are work deadlines, being stuck in traffic, having a disagreement or interpersonal tension, and experiencing discrimination or unfair treatment. I (and others) have found that positive events occur far more frequently than stressors among community-based, non-clinical samples of midlife and older adults.
How did you become interested in this line of research?
As one of my work-study jobs when I was an undergraduate at UCLA, I transcribed recordings of marriage therapy sessions. These couples had deeply entrenched problems in their relationships, yet I was most struck by the seeming lack of positive experiences. That job, along with my coursework and other research activities, sparked my interest in whether positive experiences could help alleviate depressive symptoms and counteract stress. I pursued this line of work in graduate school at UC Riverside, where the health psychology graduate courses opened up a whole new world for me that further developed my interests in psychosocial well-being, aging, and health.
Can you tell us about any new research that you are particularly excited about?
I am excited about tracking intraindividual fluctuations in functional and subjective health. In other words, why do we feel healthier and are better able to carry out daily activities on some days than on others? I am also excited about characterizing the processes surrounding daily positive events—that is, individual differences and contextual factors that predict exposure to positive events, as well as appraisals, physiological and emotional responses, and the lingering effects of positive events. My overarching goal is to identify aspects of day-to-day life that can be modified to promote health and well-being.
Do you have a motto?
I do not have a motto, but I believe that every endeavour worth pursuing requires a great deal of practice, persistence, and risk-taking. And, defeat and setbacks should not be interpreted as failure; rather, they are signs of progress towards success.
What do you like to do in your free time?
I love spending time with friends, family, and my two dogs, Muffet and Luke. Because research projects can take years, I like to balance them out by doing creative activities in which I can produce something tangible right before my eyes, including knitting, crocheting, drawing, and cooking.