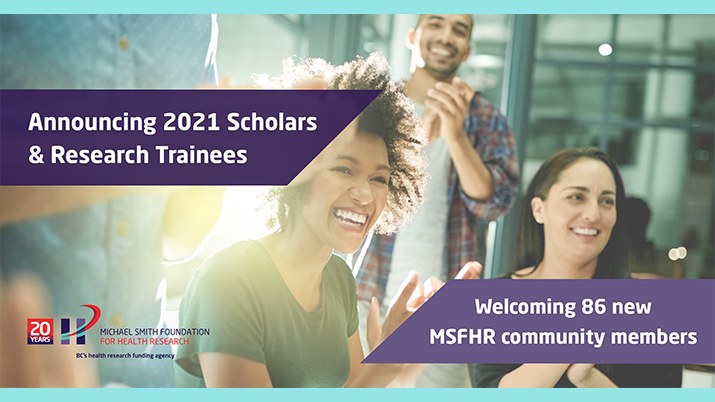 The Michael Smith Foundation for Health Research (MSFHR) has named Assistant Professor Dr. Samantha Dawson and Associate Professor Dr. Connor Kerns 2021 Scholar Award recipients.
The MSFHR Scholar Program supports early-career health researchers who are building leading-edge health research programs, training the next generation of scientists, and expanding their potential to make significant contributions to their field.
Postdoctoral Research Fellow Dr. Katerina Rnic has also received the 2021 Research Trainee Award.
The MSFHR Research Trainee Program supports health researchers in the training phase of their research career to enable career development and enrich BC's health research talent.
Join us to congratulate Dr. Kerns, Dr. Dawson, and Dr. Rnic on their achievement!
Learn more about their research
Dr. Dawson's research aims to pilot a novel couples-based psychological intervention to improve new parents' sexual health and advance perinatal healthcare practices. Read more about her research proposal Couples' perinatal sexual health and well-being.
"Sexual health is vital to overall health and well-being, yet it is relatively understudied and often misunderstood. A direct and immediate benefit of holding the MSFHR Scholar Award is that it affords me the time and focus to build my cutting-edge research program and mentor the next generation of sexuality scientists. An indirect benefit is that the award situates sexual health and well-being as an important BC health priority, which will pave the way for additional investment and innovation in my field."
Dr. Samantha Dawson
Assistant Professor, UBC Psychology
Dr. Kerns's research goal is to improve the recognition, characterization, prevention, and treatment of traumatic events and symptoms in autistic youth and young adults. Read more about her research proposal Defining and detecting traumatic events and symptoms in autism.
"I am extremely grateful to have been chosen as a Michael Smith Scholar. This award will play an indispensable role in expediting our efforts to not only better understand and raise awareness about the varied traumatic experiences which individuals on the autism spectrum encounter, but also to develop and disseminate ways to reduce and, where possible, prevent the negative impact of these experiences on their health and well-being."
Connor Kerns
Associate Professor, UBC Psychology
Dr. Rnic's research focuses on the effectiveness of a new cognitive control intervention (CCI) to treat cognitive control biases in depression. Read more about her research proposal A randomized controlled trial of a cognitive control intervention for major depressive disorder.

" I am grateful to the Michael Smith Foundation for Health Research (MSFHR) for the opportunity to receive world-class postdoctoral training at UBC and to pursue my research on the etiology and intervention of depression. The MSFHR Trainee Award will support me in furthering my research and in disseminating my findings to the community. My project aims to not only help us better understand the mechanisms underlying depression, but also, to develop a scalable intervention for this common and debilitating disorder, with important implications for improving mental health."
Katerina Rnic
Postdoctoral Fellow, UBC Psychology