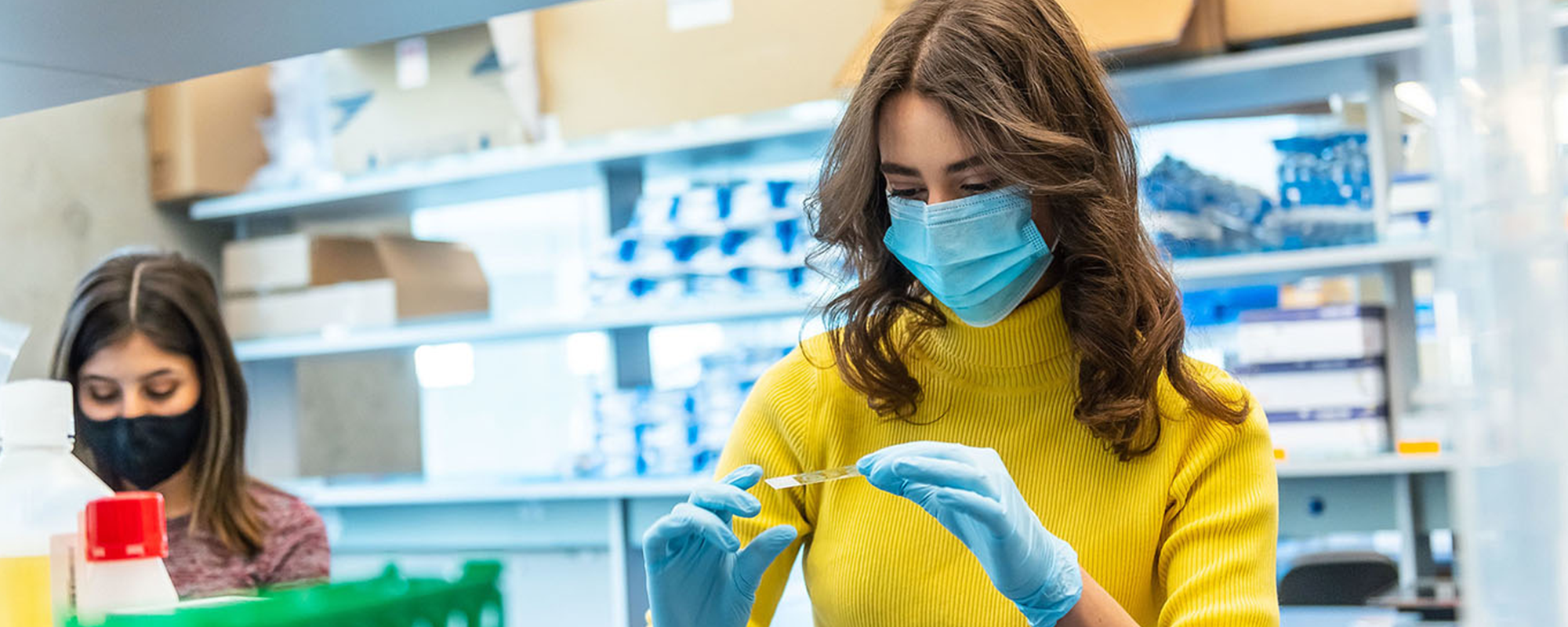 Students interested in studying the brain and nervous system can now earn a Neuroscience degree, thanks to a partnership between UBC's Faculties of Arts, Medicine and Science.
A new Undergraduate Program in Neuroscience (UPN) will welcome its inaugural class in the fall of 2022. The program brings together neuroscience research and teaching expertise spanning the three faculties and multiple departments to offer a unique, yet broad interdisciplinary approach.
A diverse project team, including UBC Psychology Associate Professor of Teaching Dr. Steven Barnes and UBC Psychology Professor Dr. Liisa Galea, worked closely over three years to develop the program. The full project team is listed below.
Neuroscience, a rapidly expanding field of research and study, integrates psychology, cell biology, genetics, biochemistry, physiology, anatomy, and other branches of the life sciences to provide an in-depth understanding of the brain and nervous system.
"This new program integrates theory and experiential learning to equip students with the knowledge, skills, and disciplinary attitudes and behaviours they need to succeed in this fast-growing field. The program will be a living lab for new educational techniques for the neurosciences in particular—and for the sciences in general."
Steven Barnes
Associate Professor of Teaching, UBC Psychology
The new Neuroscience program will replace the current BSc in Behavioural Neuroscience program offered by UBC Psychology. While popular with students, the current program doesn't offer the broad scope that students interested in neuroscience want in a degree program.
In 2017, the UBC Neuroscience Club surveyed their members and of the 1,198 respondents, almost 95 per cent supported the development of a specialized neuroscience program. As well, 80 per cent of the respondents said they would have chosen a neuroscience major if one had been available. Building on this survey, UBC launched a larger survey in 2019 to gauge interest in an undergraduate neuroscience specialization. Students and alumni from over 40 different majors spanning the Faculties of Arts, Medicine and Science were surveyed.
Based on the results of the two student surveys, the project team, with initial help from the Provost and President's Office, developed the program and presented their proposal to the Faculty of Science Curriculum Committee, the UBC Senate Curriculum Committee, the UBC Board of Governors, the Degree Quality Assessment Board of BC, and the BC Ministry of Advanced Education. The Ministry of Advanced Education approved the program on October 14, 2021.
"The approval of this new program marks a major milestone for UBC—and it has taken the dedicated efforts of students, faculty and leadership to make this dream a reality. The collaboration between three different faculties ensures the necessary breadth and success of this degree. It will serve as a model for what an interdisciplinary and multi-faculty undergraduate program at UBC should look like."
Liisa Galea
Professor, UBC Psychology
The specialization will be offered and administered by the Faculty of Science and courses in the program will be taught or jointly taught by faculty from UBC Arts, Medicine and Science. Seven new courses were created for the program and students in the program can choose one of two areas of emphasis: cellular and molecular neuroscience or behavioural and cognitive neuroscience. The structure of the program encourages students to take a breadth of neuroscience courses.
The program offers integrated curriculum and career planning, both at the course- and program-level, with support from peers, instructors and advisors. Graduates with the Neuroscience degree will be well positioned to apply their unique training to tackle complex problems in healthcare, research, and policy.
"Neuroscience is a fast-evolving discipline and UBC's degree program, coupled with our outstanding UBC neuroscientists, will ensure our students get the very best education in this exciting discipline. They might have called the 1990s the decade of the brain but 2022 will be the launch of a new era at UBC and I am ecstatic to have a front row seat."
Liisa Galea
Professor, UBC Psychology
Dr. Vanessa Auld, Professor and Head, Department of Zoology, Faculty of Science
Steven Barnes, Associate Professor of Teaching, Department of Psychology, Faculty of Arts
Simon Bates, Associate Provost, Teaching and Learning, UBC
Liisa Galea, Professor, Department of Psychology, Faculty of Arts
Andrea Han, Associate Director, Curriculum and Course Services, UBC Centre for Teaching and Learning Technology
Carrie Hunter, Curriculum Consultant, UBC Centre for Teaching and Learning Technology

Nicole Jenni

, Graduate Student, Department of Psychology, Faculty of Arts

Alireza Kamyabi, Graduate Student, Graduate Program in Neuroscience, Faculty of Medicine

Tim O'Connor Professor, Department of Cellular & Physiological Science, Faculty of Medicine
Natasha Pestonji-Dixon, Graduate Student, Department of Psychology, Faculty of Arts
Alison Stuart-Crump, Senior Projects Manager, Academic and Provost Office, UBC
Describe and apply historical and foundational concepts and theories in neuroscience (including basic cellular, systems, behavioural and cognitive underpinnings) in a variety of contexts.
Demonstrate a conceptual understanding and procedural knowledge of neuroscience and neuroscience research design and techniques.
Describe the behavioural features and explain the neurobiological mechanisms of a range of neurological and psychiatric conditions.
Design a well-thought-out neuroscience experiment with human participants and/or non-human subjects, appropriate for conducting at an undergraduate level; including design, ethics, data collection, and statistical analyses.
Summarize a primary neuroscience-related academic article, analyze its strengths, identify its limitations, and propose appropriate avenues for further inquiry.
Review and integrate a body of neuroscience literature into a concise synopsis.
Produce well-crafted instructions, reports, essays, presentations, discussions, and debates aimed at both neuroscientific and non-neuroscientific audiences.
Explain the ethical and societal implications of neuroscience research and theory.
Produce a well-substantiated critique based on ethical, design, methodological and/or interpretive considerations for: (1) a piece of neuroscience research (e.g., a research article); (2) a neuroscientific technique; and (3) a field of study in neuroscience.
Develop, reflectively analyze, and edit a personalized curriculum and career plan.
Provide, receive, and integrate peer/mentor feedback on academic work.
Program effectively for the purposes of data collection, processing, analysis, and presentation.
Neuroscience has been a research area at UBC's Vancouver campus for at least six decades. There are over 110 faculty members, representing over 13 departments from the Faculties of Arts, Medicine and Science, who are neuroscientists or who have neuroscience research expertise. Laboratory and teaching areas are situated across the UBC Vancouver campus and at several hospitals in the Lower Mainland.
Since 1984, there has been a Graduate Program in Neuroscience (GPN) at UBC Vancouver, offering MSc and PhD degrees. The GPN is a multidisciplinary, research-oriented program administered through the Faculty of Medicine and the Djavad Mowafaghian Centre for Brain Health.
The UBC Neuroscience Club is an interdisciplinary academic society at UBC Vancouver focused on exploring the connections between neuroscience and other academic disciplines.
---
Related