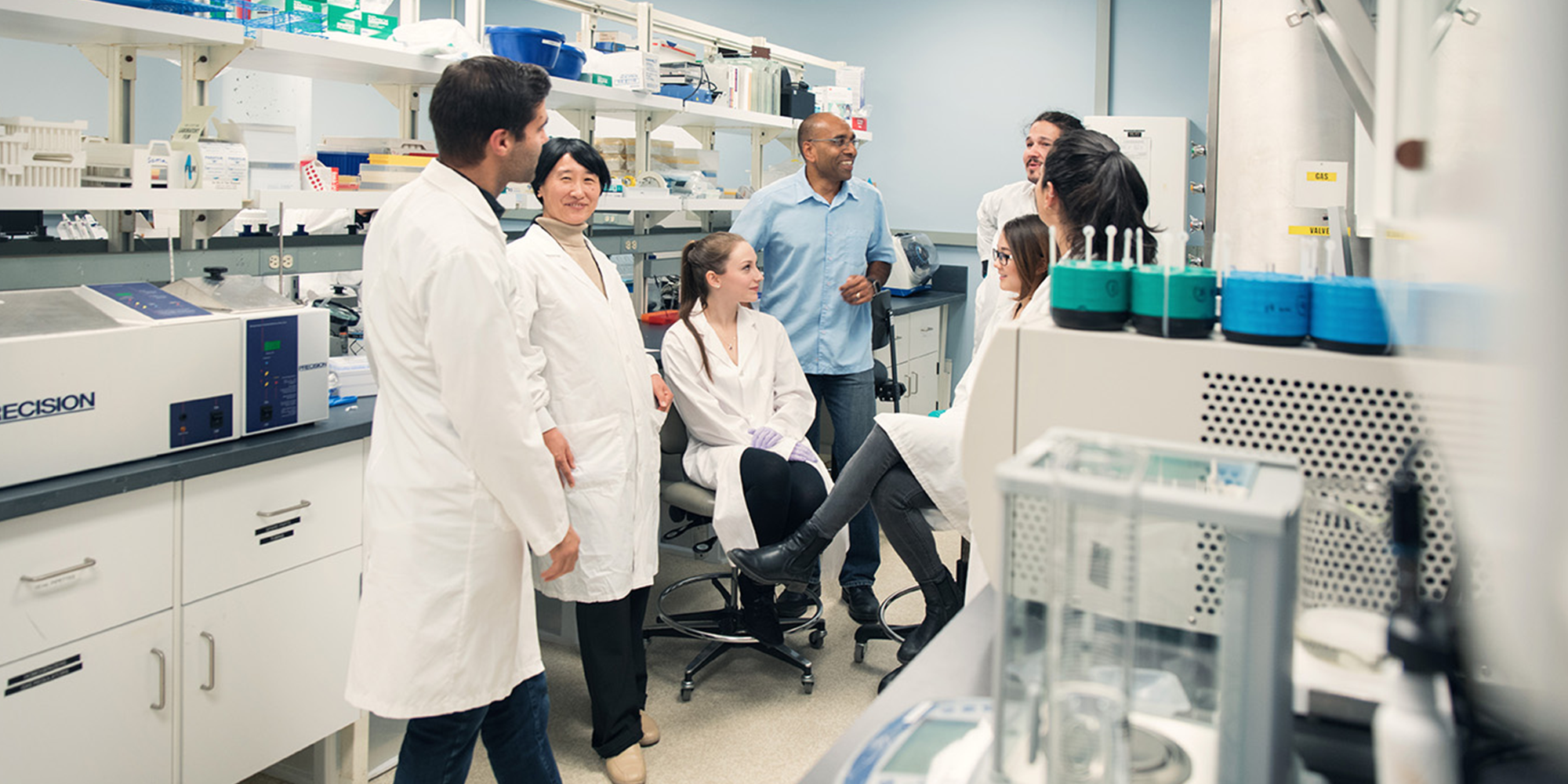 PSYC 240 offers hands-on research experience for course credit.
Starting in the Winter 2022-2023 session, UBC undergraduate students interested in conducting research can enrol in the course PSYC240: Research Experience to get course credit for their work in psychology labs. Coordinated this year by Dr. Darko Odic (he/him), an associate professor in the department of psychology, this initiative provides students with an opportunity to work in a research lab for course credit instead of volunteering their time.
In a Q&A, Dr. Odic expands on his motivation behind creating PSYC240 and how the course makes research opportunities more accessible to students.
Can you tell us more about the PSYC240 course and your personal motivation behind creating it?
Doing hands-on research in psychology labs is a common way of gaining many skills that are important for graduate work in psychology (e.g., data coding, participant recruitment, administration of tests and measurements, and more). These positions are known as "research assistantships", or RA positions. While most psychology labs at UBC support undergraduate students as RAs, this is primarily done through volunteer experiences. Many students, however, cannot volunteer their time to work in psychology labs as RAs while balancing other commitments like work or family care, and are therefore systematically excluded from RA opportunities.
The central goal of PSYC240 is giving students an alternative arrangement of working in a psychology lab for course credit, if they prefer this to volunteering. Students can either convert their existing volunteer positions into PSYC240 to now earn course credit for their time or can alternatively use a centralized portal application to apply for positions in labs that are still actively taking PSYC240 students. And— because we can better understand which students are getting these positions—we also hope to better understand and address other barriers that prevent students from being able to join labs when they do choose to apply.
How will students benefit from this course after completing it?
Students taking this course can benefit in two ways. First, as research assistants (RAs) students will get hands-on experience doing empirical psychology research (for a description of the kinds of skills students can expect to learn, check out the list of labs and the typical roles RAs take here). Second, students enrolled in the course will also be able to access various resources on Canvas built for the course. This includes asynchronous lectures on careers in psychology, tips for joining labs beyond the course, and more. We hope that students who complete this course will be able to continue being RAs through third and fourth year courses, including the Directed Studies course, which only becomes available to students in their third year. 
"We hope that students who complete this course will be able to continue being RAs through third and fourth year courses, including the Directed Studies course, which only becomes available to students in their third year."
Darko Odic
Associate Professor, UBC Psychology
Are there any challenges that you anticipate students may face as they join a lab for the first time?
The biggest challenge students consistently tell us in trying to find lab positions is that they don't know how: each lab follows their own schedules of when they recruit, how many students they recruit, and how they recruit them. This means that students who have the time and assertiveness to contact labs and inquire about this are those who are more likely to get the positions.
By creating a centralized application portal for PSYC240, we hope to solve this problem. By following the portal, students can learn which labs are actively recruiting students, what information they will ask of them (in the portal and afterwards), making the process much more transparent. When the students complete the application, they select all the labs they are interested in joining, who are then forwarded the basic information from the portal. Labs then reach out to students with any additional information they require. With the portal, students can complete in one single application what otherwise might take weeks of information gathering and emailing. 
 What is your top priority overseeing this course and where do you see it in the future?
Our biggest priority is making sure students are aware of PSYC240 as an option and making the application portal work as smoothly as possible. In the long run, we hope that the application portal we are using for PSYC240 might become a centralized place through which students can apply for all kinds of positions in research labs (directed studies, paid position, volunteer positions, and more). This year is really our pilot year: we are testing a new idea and seeing how well things work and which barriers we actually solved. We plan on taking extensive feedback from our students and research labs on how to make the process even more transparent and easy for next year.
As things stand, there are so many issues with equity, diversity, and inclusion in RA positions, and we hope to partly solve at least two of them this year with PSYC240. First, asking students to volunteer their time for gaining RA positions puts a serious burden on students who cannot accommodate this in their timetables, especially due to work or family commitments. By allowing them to gain RA skills through their course timetable, we hope to significantly expand the pool of students who can experience being an RA.
In future years, we hope to also find ways of minimizing the financial burden for students taking the course through scholarships or tuition waivers. Second, a major challenge for understanding diversity issues for RA positions is that the Department does not have any information on the students who regularly apply and fail to get positions, and as a result we don't have any ability to know if there are systematic factors excluding certain students from these positions. As part of applying for the PSYC240 course, students can fill out an optional demographic survey (which is not shared with any of the labs they apply to). Because we will eventually know which students gained positions vs. those that did not, we will be able to collate this data and find out if particular groups are systematically excluded from positions (e.g., ESL students, first-generation students, etc.). This will be key data for addressing these gaps in future years through, for example, the department's EDI Initiatives. 
What is the process to apply for this course?
For students who already have a volunteer position lined up and who would like to convert it to PSYC240, the process is very simple: complete the application portal and simply check off a box that you are not applying for a position but converting one. We take care of everything behind the scenes from there. 

For students who are applying for a lab position, there are two steps. First, students complete the centralized application, which importantly has them attaching their resumes and selecting the labs they are interested in joining and adding a brief description for each lab they select about what drew them to the lab. Once completed, each selected lab gets notified about a student applying to their lab and receives the description and their resume (the labs do not see what other labs each student applied for, nor any of the optional demographic information). Each lab then has their own internal protocols: some will ask for a secondary application, some might ask for an interview, some might ask for transcripts, etc.
All of this information is available on the list of labs accepting students, so there are no surprises. Once a lab decides to take a student on and the student accepts their offer, the PSYC240 Coordinator is notified, and we take care of the administrative details.  

How can students maximize their chances to be successfully enrolled in PSYC240?
There are, of course, many fewer RA positions than students interested in taking them. To maximize the chance of getting into the second round, there are two bits of advice we can give:
Read the description of what the lab you are applying to is working on carefully, and think about 

why

 you are interested in joining the lab. The more you can show that you have thought about what about a lab's research appeals to you, and what existing skills you have that might compliment their work, the more likely it is that the lab will contact you for the second round. Here is a specific example: my own lab does research on cognitive development, including on how children learn language, mathematics, and metacognition. A truly excellent application not only shows awareness of this, but also gives examples of what or why, exactly, draws the student to our research program (e.g., an interest in a future career as an education, or perhaps some personal experience that makes one of these topics especially topical, or a theory that you learned about in a class that keeps you up at night, etc.). 

The resume that you include does not need to be extensive, but it needs to be specific. Think about the kinds of skills you already have that would be valuable to the labs you are applying to (e.g., customer service experience, coding experience, statistics courses you have taken, etc.). We provide several resources on making a good resume on the Portal, but what is especially worth emphasizing is that labs will care a lot about the skills you have or want to develop more so than, for example, where and when you finished high school. 
By Othmane Khaled