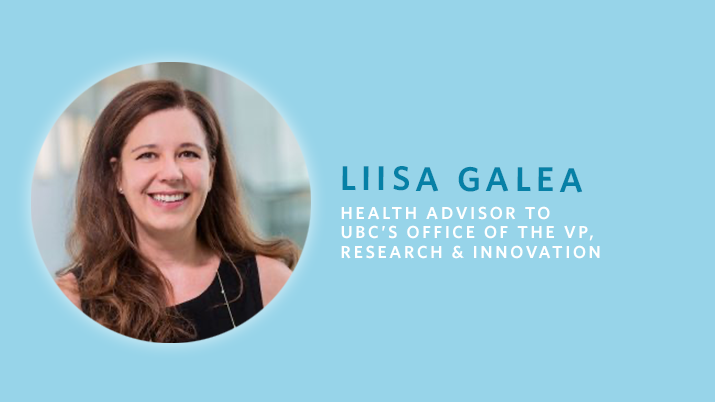 Dr. Liisa Galea has been appointed with a new role as a Health Advisor to UBC's Office of the VP, Research & Innovation (VPRI) in partnership with the Canadian Institutes of Health Research (CIHR).
"I'm thrilled to work with the SPARC office at UBC, who are a treasure trove of information—and am humbled to take the reins from Dr. Lara Boyd, our previous health advisor who was such a strong advocate for UBC at CIHR."
Liisa Galea
Professor and Distinguished University Scholar, UBC Psychology
Faculty research advisors work in conjunction with UBC VPRI to provide strategic guidance, promote awareness of funding opportunities and support individuals or groups regarding research funding.
In this role, Dr. Galea will serve as UBC's CIHR delegate to provide advice and leadership in health funding coming from CIHR. She has been actively involved with CIHR since spearheading a survey in 2016, where she stepped up to discuss the reforms. In addition to serving on the Institute Advisory Board of the Institute of Gender and Health, she has attended multiple CIHR Strategic Planning Sessions and Workshops in Ottawa.
"CIHR's new Strategic Plan will be announced soon and there are many changes in store for the CIHR community over the next few years, including much needed revisions to the much-maligned CCV – I'm sure many of us can't wait for that particular reform!"
Liisa Galea
Professor and Distinguished University Scholar, UBC Psychology
Dr. Galea is a sex and gender champion and an EDI advocate and will continue to promote these initiatives at CIHR and for health funding. If you have constructive advice and suggestions for CIHR—or to improve health research at UBC and across Canada—Dr. Galea encourages you to contact her.
---
About
Dr. Liisa Galea is a Professor in the Department of Psychology and a member of the Centre for Brain Health at the University of British Columbia (UBC). She is also Health Advisor to VPRI, Lead of the Women's Health Research Cluster and a Scientific Advisor for the Women's Health Research Institute.
Her research investigates how sex hormones influence brain health and disease in both females and males. The main goal of her research is to improve brain health for women and men by examining the influence of sex and sex hormones on normal and diseased brain states such as depression and Alzheimer's disease.