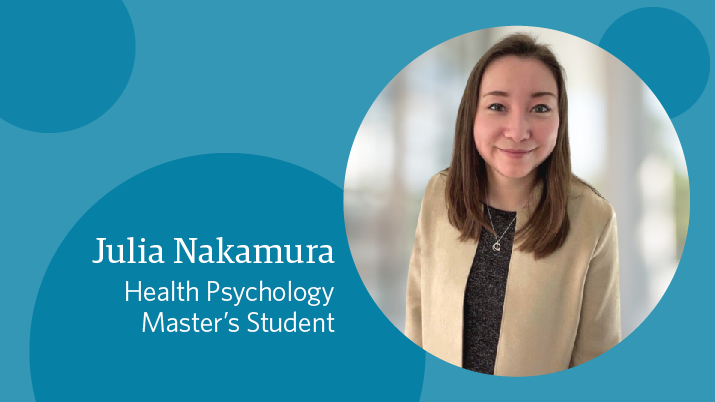 Julia Nakamura, a graduate student in health psychology, was awarded the Gerontological Society of America's Behavioral and Social Science's Student Research – Pre Dissertation Level Award for her research paper Are all domains of life satisfaction equal? Differential associations with health and well-being in older adults.
Julia is interested in the aspects of psychological well-being that positively influence physical health outcomes, health behaviours, and psychosocial well-being in older adults. She is currently working with United Way Worldwide to learn about the greatest needs of older adults during COVID-19, and using these insights to help create volunteering guides that United Way Chapters can rapidly implement to help older adults in their areas.
"I am incredibly grateful for my mentor, our collaborators, and our lab team for their meaningful contributions to this project. It is exciting to see increasing recognition for work focused on how psychological well-being factors enhance subsequent health and well-being and the implications this may have for our rapidly growing population of older adults. We are very honoured to have our work recognized by the Gerontological Society of America."
Julia Nakamura
Graduate Student, UBC Psychology
Julia is a member of the Psychosocial Flourishing and Health Lab, which is lead by her supervisor, Dr. Eric Kim, an assistant professor in the department of psychology at UBC. Dr. Kim's research aims to identify, understand, and intervene upon the dimensions of psychological well-being that reduce the risk of age-related conditions.
"As countries seek innovative and cost-effective methods of enhancing the health and well-being of our rapidly ageing populations, Julia's paper suggests that some domains of life satisfaction have a substantially larger influence on health and well-being outcomes than others. These findings are a timely addition to continuing conversations happening around implementation of well-being metrics into policy measures, and we are honoured to see this work being recognized."
Eric Kim
Assistant Professor, UBC Psychology
Join us in congratulating Julia on this recognition. She will be accepting this award and presenting her research at the Gerontological Society of America 2021 conference.