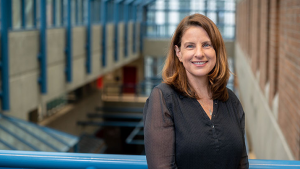 Dr. Toni Schmader, a professor in the department of psychology, has received a Killam Award for Excellence in Mentoring, recognizing her outstanding abilities in mentoring graduate students.
Dr. Schmader inspires her students to recognize connections between their specific research areas and broader societal applications, and promotes in-depth theoretical engagement throughout the research process. Utilizing a whole-person mentorship approach, Dr. Schmader tailors her guidance in order to best support each student she mentors, encouraging their development not only as scientists, but as individuals as well.
Students mentored by Dr. Schmader describe her as a transformative force in shaping their careers and intellectual abilities.
Join us in congratulating Dr. Schmader on this recognition.
About The Killam Awards for Excellence in Mentoring
The Killam Awards for Excellence in Mentoring recognize outstanding mentorship of numerous graduate students over many years. The awards will be adjudicated by a committee chaired by the Associate Dean, Funding, of the Faculty of Graduate and Postdoctoral Studies. The Killam General Endowment at the University of British Columbia (administered by the Office of the Provost and Vice-President Academic) provides the funds for the awards.