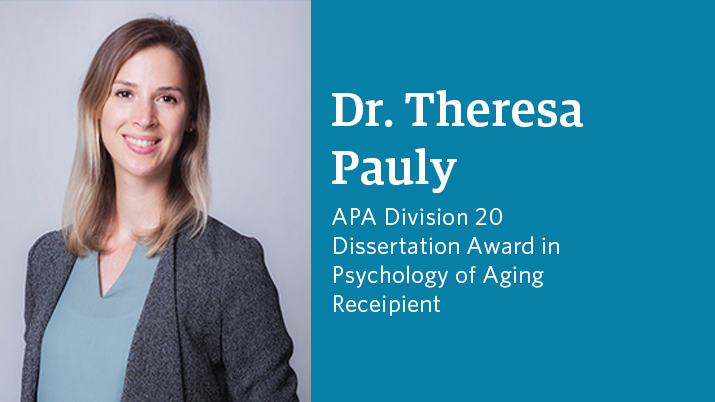 Dr. Theresa Pauly, a recent PhD graduate of the department of psychology, has been recognized with the APA Division 20 Dissertation Award in Psychology of Aging.
Close individuals tend to show synchronized ups and downs of stress hormones such as cortisol. Pauly's dissertation, Cortisol synchrony in older couples: Links with differential contexts, individual characteristics, and long-term outcomes, examined interconnections in cortisol levels in older couples' daily lives. Her findings help us understand the everyday dynamics that contribute to health being linked in older couples.
"In this dissertation, I was able to collaborate internationally to examine everyday stress hormone dynamics in three different samples of older couples. Taking part in the kind of studies that constitute my thesis requires a lot of time and commitment and I sincerely appreciate the participants' contributions. Overall, I hope my findings will inspire future research on micro-social dynamics, to better understand how relationship partners can get 'under our skin' in our daily lives."
Theresa Pauly
PhD (2020)
Pauly adds, "It is a large honour for me to receive the APA Division 20 Dissertation Award in Psychology of Aging. My PhD journey at UBC had lots of moments when I was excited about my research but certainly also held some struggles and challenges that needed to be overcome. This would not have been possible without the fantastic team at the Health and Adult Development lab which I have been fortunate to work with over the past years and all the support, encouragement, and advice from my advisor, Dr. Christiane Hoppmann. I am deeply grateful I was able able to conduct my PhD studies alongside such an incredible set of researchers in the Health Graduate Program in the Department of Psychology at UBC."
Please join us in congratulating Dr. Pauly!