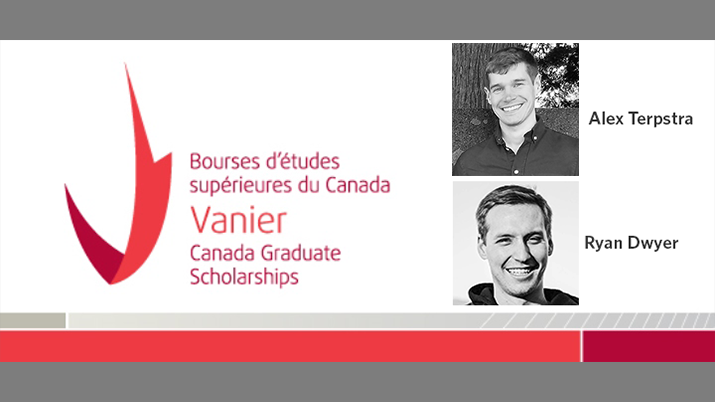 UBC Psychology graduate students, Ryan Dwyer and Alexander Terpstra, have received the prestigious 2019 Vanier Canada Graduate Fellowship.
The fellowship, which helps to train some of the brightest doctoral and postdoctoral fellows, sees both Dwyer and Terpstra working with some of UBC's best to deliver innovative and groundbreaking research.
Dwyer works with Dr. Elizabeth Dunn in the Social Cognition and Emotion Lab and with Dr. Jiaying Zhao in the Behavioral Sustainability Lab to investigate the impact of technology on social interactions and mental health.
"Smartphones and other recent technologies have fundamentally changed the way we live and interact," Dwyer said. "And my research explores how these changes impact well-being in everyday life."
Dwyer's research also explores how motivational exercises and financial assistance programs can be used to help people experiencing homelessness in Canada.
Meanwhile Terpstra's research examines whether cognitive biases in unipolar and bipolar depression can be used to predict the effectiveness of different medications and treatments.
"The goal of my research is to make treatment selection more efficient for people diagnosed with depression," Terpstra said. He is working with Dr. Rebecca Todd's Motivated Cognition Lab in collaboration with researchers at the UBC Mood Disorders Centre to carry out his research.
"How wonderful that we have two winners this year!"
Sheila Woody
Director of UBC Psychology's Graduate Program
The Honourable Kirsty Duncan, Minister of Science made the announcement at Queen's University in Kingston, Ontario on Thursday, May 16, 2019.
According to the Government of Canada's media advisory, these fellowships "will help train some of the brightest doctoral students and postdoctoral fellows and will strengthen Canada's ability to attract and retain world-class research talent.
Upon expressing their excitement and appreciation of receiving this award, Dwyer said, "I think one of society's most important goals is to increase well-being for all. I am excited to use this award to continue applying psychological insight to improving the well-being of people in everyday life, and in their most difficult days."
Terpstra expressed similar sentiments to Dwyer and emphasized how the award further validated his passion and research interests.
"Receiving a Vanier Scholarship has helped reinforce my chosen research path," Terpstra said. "And motivated me to get further involved in collaborative research with passionate people who wish to help improve the health and wellbeing of people living with depression and other mental health conditions."
The awards came as no surprise to Dr. Sheila Woody, director of UBC Psychology's Graduate Program, who is used to the outstanding caliber of research that comes from the department's graduate students.
"Our students are very successful at attracting external funding to help them develop into independent researchers," Woody said. "And the Vanier is the most prestigious of them all. How wonderful that we have two winners this year!"
-Dannielle Piper