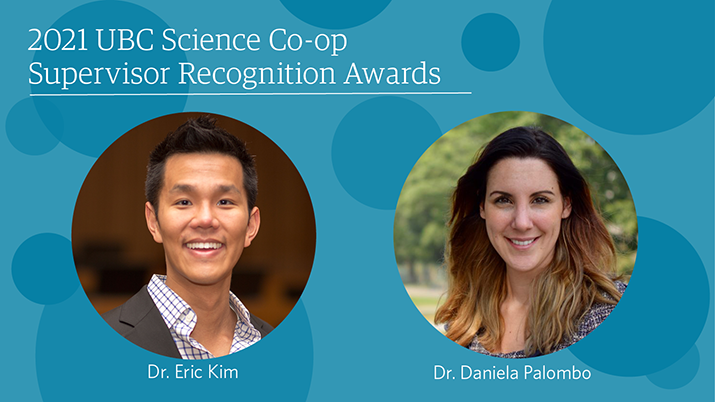 Congratulations to UBC Psychology Assistant Professors Dr. Eric Kim and Dr. Daniela Palombo, who received 2021 UBC Science Co-op Supervisor Recognition Awards.
Launched in 2017 and awarded annually, the UBC Science Co-op Supervisor Recognition Award celebrates supervisors who have created exceptional work experiences for Co-op students. The award is based on providing meaningful experiential learning; excellent coaching, guidance, and mentorship; and encouraging opportunities for professional growth.
Dr. Eric Kim, who is principal investigator of the Psychosocial Flourishing and Health Lab, was nominated by third-year Behavioural Neuroscience Co-op student Athena Varghese.
Athena says, "Working with Eric has been a fantastic experience! Starting in September 2021, everything was unknown with the pandemic—so I was very appreciative that Eric had weekly meetings with his co-op students and that I was put into a very welcoming community with his graduate student and lab members. It's inspiring to learn from someone who values hard work, self-improvement, kindness, and creativity. One of the things I am the most thankful for is that every time I work with Eric, I am reminded that there are no limits to what I and other students can do when we set our mind to it!"
"It's been an incredible privilege working with each trainee in my lab! I'm deeply grateful for each one of them and I'm in awe of how they're able to endure and often even flourish in these pandemic times. Whenever things get tough their drive, warmth and care for others, creativity, sincerity, and sense of hope permeates the air, and they constantly remind me how grateful I am to be in this field and at UBC."
Eric Kim
Assistant Professor, UBC Psychology
Dr. Daniela Palombo, who is principal investigator of the Memory and Imagination Lab, was nominated by third-year Computer Science Co-op student Elaine Shi.
Elaine says, "Daniela always makes sure that I feel included and comfortable at work. I'm lucky to have such a supportive and caring supervisor on my first co-op experience. It's great that she'll be recognized for her amazing mentorship!"
"It is an honour to receive the UBC Science Co-op Supervisor Recognition Award. UBC's co-op program is incredible and I am grateful for the opportunity to connect with students from other disciplines. Mentoring is such a rewarding part of my job and working with talented and ambitious students like Elaine makes it easy!"
Daniela Palombo
Assistant professor, UBC Psychology
We thank Dr. Kim and Dr. Palombo for providing valuable work term experiences for UBC Science Co-op students!