Why did Paul Gauguin abandon middle-class life to follow the path of a starving artist? What inspired Bill Gates to give away so much of his hard-won fortune? How has Donald Trump succeeded so excessively, when his winning style could easily be his greatest liability?
As the renowned emotion researcher Jessica Tracy reveals in Take Pride, each of these superachievers has been motivated by an often maligned emotion: pride.
Join Jessica Tracy at a special book talk and signing event. Interested in your own copy of Take Pride? The UBC Bookstore will be onsite at this event.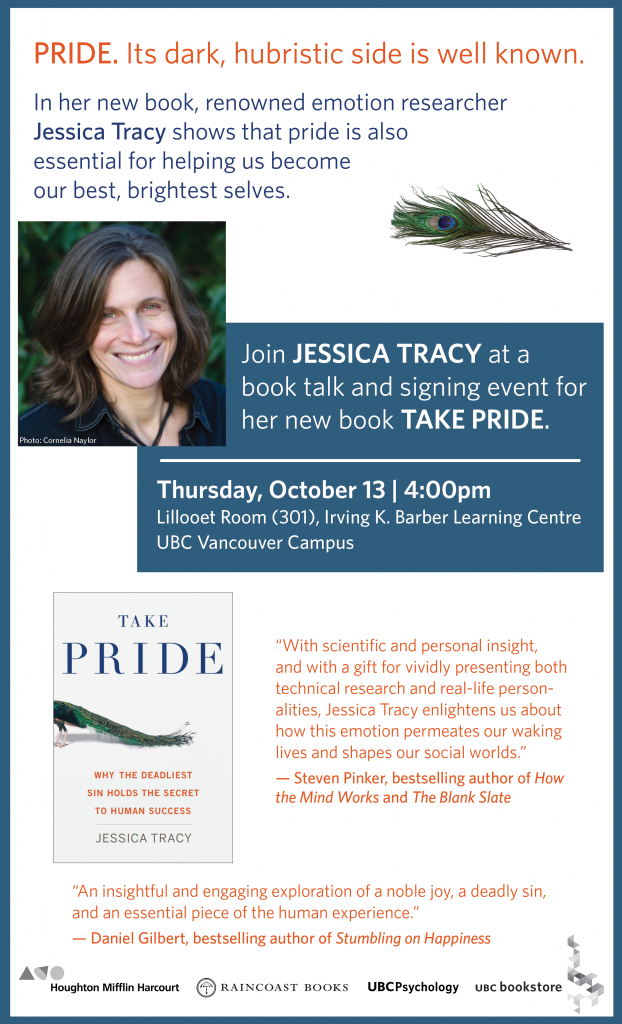 Dr. Jessica Tracy is a Professor of Psychology at the University of British Columbia and Director of the Emotion & Self Lab. She received her Ph.D. from the University of California, Davis, in 2005. Her research focuses on emotions and emotion expressions, and, in particular, those emotions that are most intricately intertwined with our sense of self: pride, shame, and guilt. She has coedited two academic volumes, The Self-Conscious Emotions and The Psychology of Social Status, and has published over eighty journal articles, book chapters, and theoretical reviews in psychology and interdisciplinary science journals. Winner of the James McKeen Cattell Dissertation Award from the New York Academy of Sciences and of the International Society for Self and Identity Early Career Award, she has had her research findings covered by hundreds of media outlets, including ABC's Good Morning America, NPR's All Things Considered, the New York Times, The Economist, and Scientific American.