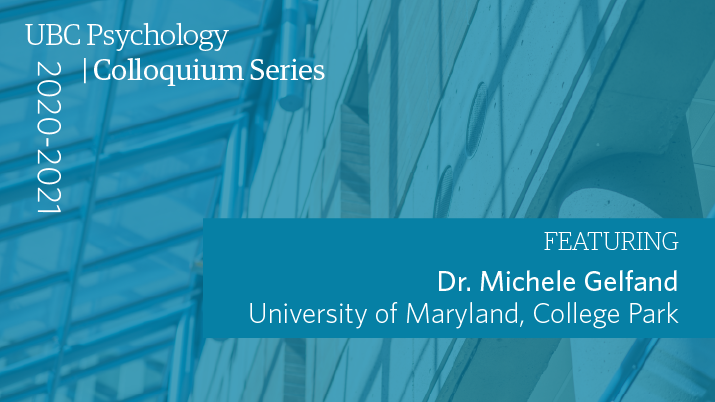 FEATURING
Dr. Michele Gelfand, Professor of Psychology at the University of Maryland, College Park.
TITLE
The Secret Life of Social Norms: From Nations to Neurons
ABSTRACT
Humans sociality is enabled by our ability to develop, maintain, and reinforce social norms. While social norms are universal, there is wide variation in the strength of social norms (or tightness) around the globe. In this talk, I will describe theory and research on tightness-looseness in pre-industrial societies and in modern nations and states and discuss the evolutionary and neurological basis of such differences. I will then discuss the implications of the strength of social norms for COVID-19 cases and deaths, and more generally, cultural evolution mismatches that can occur when traits that are beneficial in one environment are maladaptive in others.
BIO
Dr. Michele Gelfand is a Distinguished University Professor at the University of Maryland, College Park. Gelfand uses field, experimental, computational, and neuroscience methods to understand the evolution of culture–as well as its multilevel consequences for human groups. Her work has been cited over 20,000 times and has been featured in the Washington Post, the New York Times, the Boston Globe, National Public Radio, Voice of America, Fox News, NBC News, ABC News, The Economist, De Standard, among other outlets. She is the author of Rule Makers, Rule Breakers: How Tight and Loose Cultures Wire the World (Scribner, 2018) and co-editor of the following books: Values, Political Action, and Change in the Middle East and the Arab Spring (Oxford University Press, 2017); The Handbook of Conflict and Conflict Management (Taylor & Francis, 2013); and The Handbook of Negotiation and Culture (2004, Stanford University Press). Additionally, she is the founding co-editor of the Advances in Culture and Psychology Annual Series and the Frontiers of Culture and Psychology series (Oxford University Press). She is the past President of the International Association for Conflict Management, past Division Chair of the Conflict Division of the Academy of Management, and past Treasurer of the International Association for Cross-Cultural Psychology. She has received several awards, such as the 2017 Outstanding International Psychologist Award from the American Psychological Association, the 2016 Diener Award from the Society for Personality and Social Psychology, and the Annaliese Research Award from the Alexander von Humboldt Foundation.
To view the recording, please email comm.web@psych.ubc.ca
---
Annually the Department of Psychology hosts a Colloquia Series throughout the academic year. This exciting program brings us together outside of the classroom to have conversations with the speakers we've invited to our campus to share their ideas. You'll have the chance to hear from international speakers on a wide range of provocative topics.