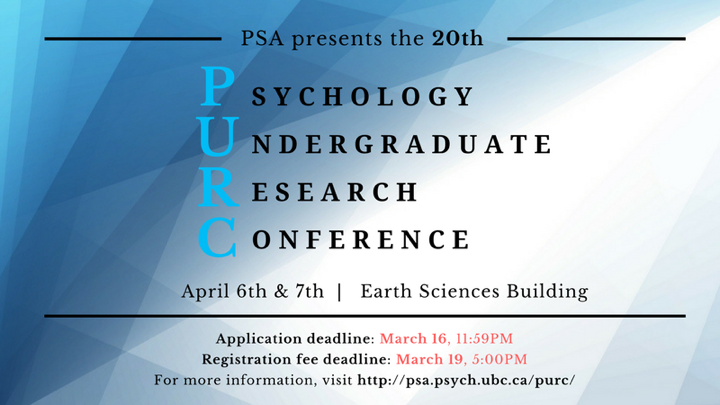 Want to learn more about the human mind? Looking for ways to get involved in psychology and neuroscience research? Curious about how academic conferences are run? Then apply for PURC, the perfect opportunity for you!
As a long-standing tradition of The University of British Columbia's Psychology undergraduate community, the Psychology Students' Association of UBC and the Department of Psychology are proud to announce the 20th Annual UBC Psychology Undergraduate Research Conference to be held on April 6th and 7th, 2018 at UBC's Earth Sciences Building (ESB).
Keynote speaker
Dr. Steven Heine, Professor of Psychology, UBC; Distinguished University Scholar; and Sauder Distinguished Scholar
Title
DNA is not Destiny: How essences distort how people think about genes
Abstract
"People the world over are essentialist thinkers – they are attracted to the idea that hidden essences make things as they are. And because genetic concepts remind people of essences, they tend to think of genes in ways similar to essences. That is, people tend to think about genetic causes as immutable, deterministic, homogenous and discrete, and natural. I will discuss how our essentialist biases lead people to think differently about sex, race, and crime whenever these are described in genetic terms. Moreover, I'll talk about how we might be able to reduce the harmful consequences of essentialism."
For more information, visit the PURC website.