Nurturing nature and our wellbeing
About
The Peas of Mind community garden brings our community together to experience the rewards of gardening, fresh produce, personal connections, and beautification to our campus neighbourhood. We hope our community food garden boosts the mental health and wellbeing of our department members and neighbouring community.
The garden was made possible through support from the UBC Healthy Workplace Initiatives Program.
A sustainable location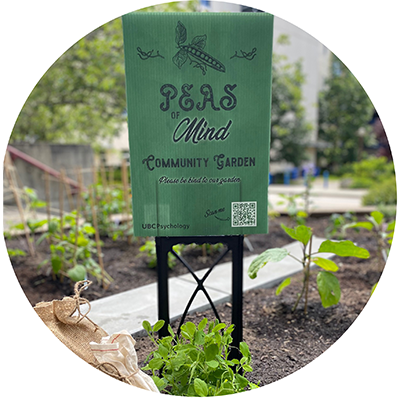 The Peas of Mind community garden is located in a large concrete planter located outside the first-floor west entrance of the Douglas T. Kenny Building on West Mall. Repurposing an existing structure for this garden was a productive use of an underutilized structure to grow food.
The Peas of Mind community garden is situated on the traditional, ancestral and unceded territory of the xʷməθkʷəy̓əm (Musqueam).
Get involved
Is your interest 'pea'ked? Complete this form if you want updates on the garden's progress and/or to get involved.
Gardeners

Tea Graf
Tara Martin
Jackie Shaw
Bonnie Vockeroth
Zola Burennemekh
Joe Graff
Jennifer Janicki
Charlotte Juras
Tara Martin
Jackie Shaw
Bonnie Vockeroth
Timeline

March 2020: Application submitted for funding through the UBC Healthy Workplace Initiatives Program
April 2020: Application approved!
June 2020: Funding extended to 2021
April 2021: Development permit submitted and approved
May 2021: Ivy removal and garden preparation
June 2021: Planting complete!
July/August 2021: Weeding, watering and nurturing the plant babies
September 2021: Harvesting the garden
October 2021: Winter planting: garlic, cabbage, and carrots
March 2022: Seedlings started
April 2022: Garden party! Compost added to soil, sunflower and lettuce seeds sown
May 2022: Transplant seedlings, plant potatoes, direct sow seeds
June 2022: Harvest the garlic, succession planting
July/August 2022: Weeding, watering and nurturing the plant babies
September 2022: Harvesting the garden
October 2022: Winter planting (spinach and radish)
May 2023: Spring cleanup, transplant seedlings, direct sow seeds (wow, some potatoes came back!)
June 2023: Planting complete! Garden party on June 21 to celebrate summer solstice
July/August 2023: Watering and staking; harvesting