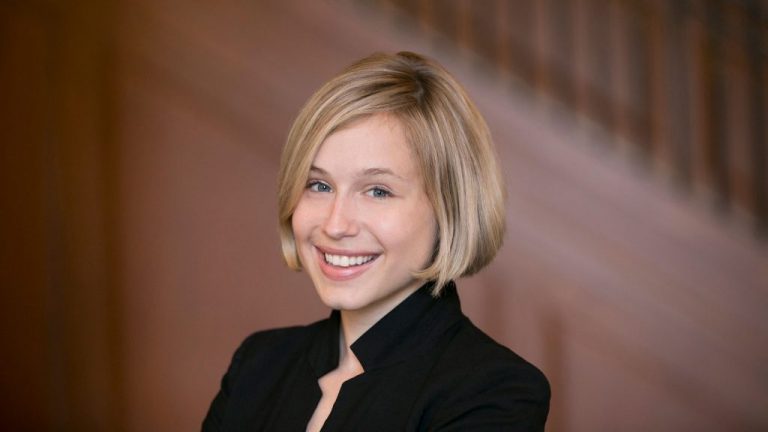 Dr. Ashley Whillans (PhD '17) has been selected as the winner of the prestigious 2018 Canadian Association for Graduate Studies Distinguished Dissertation Award for her dissertation Exchanging Cents for Seconds: The Happiness Benefits of Choosing Time Over Money.
The CAGS/ProQuest Distinguished Dissertation Award recognizes outstanding Canadian doctoral dissertations. The initiative seeks to showcase original research that makes significant contributions, both to their respective academic communities and to Canadian society at large. There are two awards presented annually: one for engineering, medical sciences and natural sciences; and one for fine arts, humanities and social sciences.
Dr. Whillans completed her Ph.D. in Psychology in 2017, and was supervised by Dr. Elizabeth Dunn. With this award, her dissertation is officially recognized as one of Canada's best dissertations. Her research, focused on the decisions people make about time and money and how trade-offs between the two are made on a daily basis, has already made a worldwide impact. Several chapters of her dissertation were published in leading journals, including the Proceedings of the National Academy of Sciences, and her innovative research was profiled in The New York Times, Scientific American, The Atlantic, the CBC, and many other news outlets around the world.
Dr. Whillans acknowledges her commitment to public scholarship and UBC's Public Scholars Iniative as a factor in her remarkable success.
"I had the great fortune of having incredible mentors during my MA/PhD and the support of an academic community through the PSI that was focused on societal impact. As a member of the UBC Public Scholar initiative, I was able to work in a variety of applied settings. For example, I led two projects with the White House Social & Behavioral Science Team in Washington, DC, under the Obama Administration. Later, I co-founded a Behavioral Science Division in the British Columbia Public Service Agency. These applied experiences solidified my interest in conducting basic research that seeks to provide solutions to broad social problems such as rising rates of social disconnection, sustainability challenges, and the negative effects of poverty on psychological health."
Dr. Whillans is currently an Assistant Professor of Negotiation, Organizations, and Markets at the Harvard Business School. Prior to joining Harvard, she was a visiting scholar and guest lecturer at the University of Chicago Booth School of Business.
This news was originally featured on UBC's Graduate and Postdoctoral Studies website.
READ A Q&A WITH DR. WHILLANS
Tell us about your dissertation and your ideas?
My dissertation research sought to explore how people navigate trade-offs between time and money. In a typical day and across a lifetime, people face trade-offs related to time and money. These trade-offs play a role in major decisions such as whether to choose a higher paying career that demands longer hours (vs. making less money and having more free time) and in mundane decisions, such as whether to spend a Saturday afternoon cleaning gutters (or paying someone else to do it). Although we are often faced with these decisions, remarkably there is very little empirical research assessing the trade-offs that people make between time and money. My dissertation therefore assessed whether giving up money to have more time promoted greater happiness and life satisfaction. Across fourteen studies—including diverse samples of North Americans, and individuals living in Denmark and the Netherlands, I found consistent evidence that people who gave up money to have more time experienced greater life satisfaction and extracted more joy out of their days and lives.
What questions do you try to answer in your current research?
In my current research, I am trying to move beyond what Steven Heine, Ara Norenzyan, and Joe Henrich would term "WEIRD" samples in order to better understand how time and money trade-offs shape the well-being and physical health of the working poor.
Indeed, poverty entails more than a scarcity of material resources – it also involves a shortage oftime. People living in poverty, particularly in developing countries, spend significantly more time on unpaid labor compared to those who are wealthier. In my ongoing research that I am conducting alongside a multi-disciplinary team including a management scholar, labor and development economists, and a computer engineer, I am examining how time poverty reinforces barriers towards economic mobility and wellbeing. Specifically, in my ongoing research, I am examining whether relieving time poverty can produce lasting psychological and economic benefits.
The insights generated by this research will help to inform a new model of economic aid designed to overcome poverty traps by directly addressing the psychological costs of time poverty (in addition to material poverty). Furthermore, in this research, I am moving beyond self-report measures to develop a behavioral measure of the value that people place on their time. This research is funded by the UCLA School of Management and the Mind, Brain, and Behavior Initiative at Harvard University.
In sum, my ongoing research constitutes what I like to think as "solving issues that were dissatisfying to me about my PhD research" (re: a focus on self-report measures and relatively WEIRD samples).
What does winning this award mean to you?
To me, it is a testament to hard work and a lot of luck. I had the great fortune of having incredible mentors during my MA/PhD, including my amazing primary advisor Elizabeth Dunn (UBC), secondary advisor Frances Chen (UBC), and faculty collaborators Mike Norton (HBS), Eugene Caruso (Chicago), and Mike Souza (University of Toronto). Each mentor encouraged me to work hard and dream big. They treated me like a colleague and gave me the confidence to tackle difficult research questions. Each mentor set the bar way higher than I ever thought it would be possible for me to achieve and taught me how to stay focused and to manage the almost perpetual failure that coincides with a successful academic career. As a new faculty member I try to keep their lessons in mind: I try to tackle the most challenging questions that I can think of and also try to enjoy both the failures and the successes. The best discoveries I have had so far have been the result of persistent effort in the face of perpetual failure. And so, this award represents the importance of trying and failing quickly and often, surrounding yourself with awesome people, and enjoying the process along the way.
Please join us in congratulating Dr. Whillans on receiving this honour!