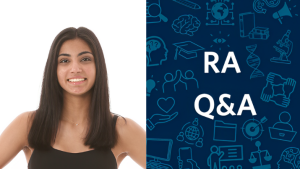 Akash Grewal has always been interested in memory. For her, the Memory and Imagination Lab, led by Dr. Daniela Palombo, was the perfect opportunity to take her academic interests and apply them to a real-world setting. The Memory and Imagination Lab explores the behavioural and neural factors associated with forming and retaining episodic memories.
Akash is currently a fourth year UBC Psychology directed studies student. In her role as the Research Assistant with the Memory and Imagination Lab, she studies the influence that personal memories have towards self-schemas and mental health. She is currently conducting autobiographical interviews within the lab to further current research. Outside of the lab and the classroom, you can find Akash playing for the UBC Thunderbird Varsity volleyball team and spending time with her puppy, Milo. 
What motivated you to apply to work as an RA at the Memory and Imagination Lab?
I have always been interested in learning about the neural and behavioural factors associated with memory. As a psychology major, it seemed fitting to take an opportunity to apply the theoretical and critical concepts from an academic setting into a real-world lab.
What intrigues you about research at this lab in particular?
The research conducted at the lab expands much farther than what can be taught in a traditional classroom. Dr. Daniela Palombo, Principal Investigator at the Memory and Imagination Lab, equips her team members with many resources to expand their understanding of psychological concepts in a practical setting. For instance, conducting virtual reality (VR) experiments, learning how to code using R, and research methods like autobiographical interviews were intriguing and useful for me to learn.
Do you have advice for other students who want to get involved in research?
Start with the resources that are already accessible to you. There is no doubt that applying for a position at a research lab can feel daunting, but encourage yourself to engage in conversations with your professors. From here, you can get a clearer understanding of the different paths that you can take to get involved in research such as starting out as a volunteer in a lab of your interest. Also, applications do not have to be based on your qualifications solely as a Psychology student; research teams also want to hear about what you have to offer beyond grades and experience. Try answering questions like "why does the position matter to you?" and "what can you contribute to the lab?"
What is your favourite part of working as an RA?
Having the privilege to unfold a study from start to finish. For me, it is a treat to construct, perform, analyze, and discover newfound information alongside amazing mentors and team members.
How do you see this field of research changing in the next few months or years?
In the next few months, I anticipate coding education to be more prevalent than ever before in research–both in Psychology and other domains of study. I believe familiarity with VR can also serve as a tool to significantly set students apart when looking for lab positions.