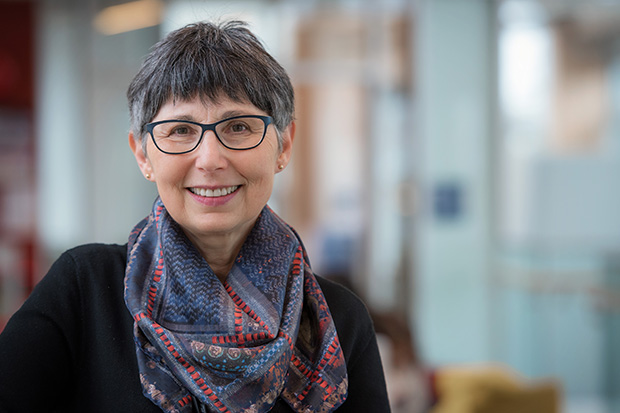 UBC professor Janet Werker, a world-renowned developmental psychologist, was awarded the 2018 Killam Prize in Social Sciences, one of Canada's most prestigious awards for academic-career achievement.
Dr. Janet Werker is a University Killam Professor and Canada Research Chair in UBC's department of psychology. She is also one of the founders and co-directors of the UBC Language Sciences Initiative, which catalyzes language-related research and integrates it with undergraduate teaching and graduate training.
Through her research, Dr. Werker explores the foundations of language learning, including multi-language acquisition in infancy. Her discoveries showing how babies are ready to learn language at birth, and how very early in life language learning begins, have had influence around the world.
"As an academic, you can change the research questions you ask, the way you teach, the kind of community outreach you do or new institute you create – in other words – not only can you always reinvent yourself, there are also so many diverse ways you can make a difference."
Dr. Janet F. Werker
Canada Research Chair in Developmental Psychology
In 2017, Dr. Werker was appointed Officer of the Order of Canada and in 2016 she was named a University Killam Professor, the highest honour that UBC confers on faculty members. She is a fellow of the Canadian Institutes for Advanced Research, the Royal Society of Canada, the Canadian Psychological Association, the American Psychological Association, the American Academy of Arts and Science, and the American Association for the Advancement of Science. Her awards include the Jacob Biely Prize, the Killam Research Prize, and the Gold Medal from the Social Sciences and Humanities Research Council.
Awarded by the Canada Council for the Arts, the Killam Prize recognizes eminent Canadian scholars and scientists actively engaged in research and whose lifetime of work has impacted the lives of Canadians and people around the world. Winners and recipients are chosen by a selection committee of their peers and receive a $100,000 prize.
"This year's exceptional Killam Prize and Research Fellowship recipients have demonstrated that persistent hard work leads to ground-breaking discoveries that improve not only our depth of knowledge as a collective, but the quality of life of humanity. These remarkable scholars whose sustained leadership, commitment to curiosity, and originality of thought will continue to inspire students and colleagues alike, undoubtedly furthering even more advancements in their fields and strengthening the generations to come." – Simon Brault, OC, OQ Director and CEO, Canada Council for the Arts
Please join us in congratulating Dr. Werker on receiving this distinction!
---
Read the full announcement on the Canada Council for the Arts website.