Meeting new people and forging new friendships is an important part of university. Some students enjoy this aspect of student life, while others dread it. Students experience social anxiety differently; it can be pervasive for some and for others the anxiety surfaces in specific situations, such as class or group presentations or a simple social outing. And to cope with anxiety, students may avoid participating in class–or even skip it altogether.
A new online treatment program, Overcome Social Anxiety, is putting tools, techniques, and treatment into the hands of UBC students. The program is through AI-Therapy, an online treatment program that uses evidence-based techniques to help people overcome social anxiety. In collaboration with UBC researchers, AI-Therapy will be evaluating its cognitive behaviour program within UBC's undergraduate student population.
UPDATE: please note the data collection for this study is complete and this study is no longer open.
Eligible UBC psychology students will be given free access to the social anxiety online treatment program as a part of their Human Subject Pool (HSP) credit. The study will investigate the efficacy of an online program in reducing symptoms of social anxiety, unhelpful thoughts, avoidance behaviours, fear of negative evaluations, and improving quality of life in students with above-average social anxiety.

For
Dr. Frances Chen
, social anxiety is a reoccurring theme in several of her research projects. She is interested in understanding what psychological barriers there are to people's optimal social functioning. 
"Many students are away from home for the first time–and the social support network that they previously had–isn't there. Students may start to feel lonely, overwhelmed and at times, anxious," says Chen, a research collaborator and assistant professor in the Department of Psychology at UBC.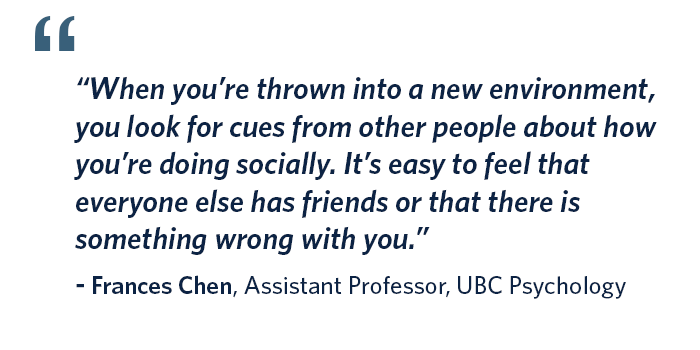 Dr. Fjola Helgadottir
, director of AI-Therapy, says the program is intended for undergraduate students who have elevated scores of social anxiety, not necessarily a social anxiety diagnosis. "When starting university, the average student becomes fully immersed, connecting with people, and experiencing a new environment," says Helgadottir, a registered psychologist at the Vancouver CBT Centre. "If you have social anxiety in the background it makes it harder—and you risk becoming isolated."
Traditionally people seek help for social anxiety through face-to-face therapy. More recently, online programs have been developed for treating social anxiety and these programs are typically delivered through therapy-assisted or online self-help books. One of the obstacles with self-help is that these programs don't offer individualized treatment. What this program does is customize and technologize therapy. AI-Therapy's online program is based on Cognitive Behavioural Therapy (CBT), the leading treatment for social anxiety. People start the program by answering a number of questions to help the program understand the anxiety they are experiencing. Then the participants complete a customized model of their behaviours to understand what triggers their anxiety–and they learn to identify the thoughts that make them anxious and how to tackle these thoughts. After this, participants receive several cognitive strategies to help them when social anxiety occurs.
"Using methods proven by science, this is a customized, preventative program that is designed to give students coping strategies and more confidence," says Helgadottir. "You learn how to incorporate these strategies into your daily life. What's unique about this program is how the algorithms in the background create customized techniques based on how you are and how you think as a person."
Dr. Chris Richardson
, associate professor in the School of Population and Public Health at UBC, is another collaborator on this project. Richardson is also a scientist with the Centre for Health Evaluation and Outcomes Sciences at St. Paul's Hospital where he is the research lead for the
Inner City Youth Program
. As research lead he works with a team of psychiatrists to examine the role of mental illness, substance use and homelessness on the psycho-social functioning of at-risk youth.
Richardson believes there is enormous potential for online tools to provide mental health support and services. "These online tools will dramatically improve access to evidence-based programming that supports mental health, especially among youth where the burden of mental illness is greatest," says Richardson. "However, it is critical that the development and dissemination of these new tools be based on rigorous research–this study is a great example of how UBC is supporting innovation in this exciting area."
Chen adds, "We're all excited about the potential of this program. Anxiety affects a lot of people and the three of us are connected with the goal to bring this type of treatment to as many people as possible—in a very scalable way. The benefits of learning these tools will be helpful even if you don't have a diagnosis. Overcoming social anxiety will be a boost in students' success at UBC."