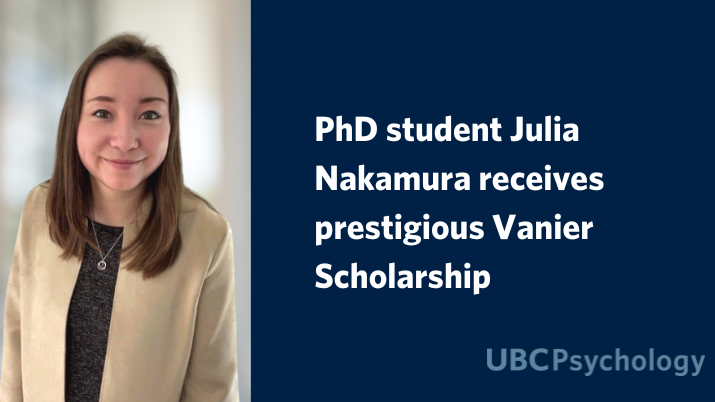 Join us in congratulating Julia Nakamura on receiving the Vanier Scholarship for her work in the field of health psychology.
Julia (she/her/hers) is a first-year doctoral student studying population health. She received this prestigious award to support her continued research on 'prosocial behavior and longevity in older adults: Identifying underlying mediators and key moderators'.
"I am incredibly honoured to be a recipient of a Vanier Canada Graduate Scholarship and am so thankful for the support of the Canadian Institutes for Health Research," says Julia. "I am immensely grateful for my mentors, collaborators, UBC Psychology colleagues, and our research assistants/lab team for their support – this recognition would not be possible without them." she adds.
"It is exciting to see increasing recognition for work focused on how, and for whom, prosocial behaviours influence health and well-being outcomes, as well as the implications this may have for our rapidly aging population."
Julia Nakamura
PhD student
The Vanier CGS program awards up to $50,000 per year for three years, for students working in social sciences and humanities, natural sciences, engineering and health. Across Canada, 166 doctoral students received Vanier Canada Graduate Scholarships, 18 of whom attend UBC.
"The Government of Canada continues to make record investments in science and research because we know it's key to creating a more equitable future for all. This year's recipients of the Vanier Canada Graduate Scholarships and Banting Postdoctoral Fellowships represent the highest calibre of researchers in the health sciences, natural sciences and engineering, and social sciences and humanities. They will bring new voices and new insights to help ensure that cutting-edge discoveries continue to propel Canada as a global leader."
The Honourable François-Philippe Champagne
Minister of Innovation, Science and Industry