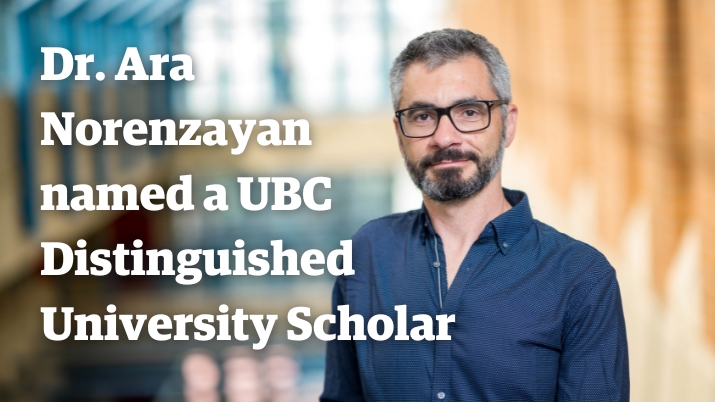 Congratulations to Dr. Ara Norenzayan, who was recently named a UBC Distinguished University Scholar!
The Distinguished University Scholar awards recognize exceptional members of faculty who have distinguished themselves as scholars in research and/or teaching and learning. The award is conferred by the President on the recommendation of an Adjudication Panel.
Dr. Ara Norenzayan is a professor of psychology at the University of British Columbia, and a co-director of UBC's Centre for Human Evolution, Cognition, and Culture (HECC). He has published widely on the evolutionary origins of religion, and the psychology of religious diversity in today's globalized world.
"I feel both humbled and thrilled to receive this honour. It has been an exceptional privilege for me to be a part of this terrific university and its Psychology Department. I could not have asked for a more supportive and inspiring community of colleagues, students, and staff. I am excited to continue my work and push boundaries as a Distinguished University Scholar in the coming years."
Dr. Ara Norenzayan
Professor, UBC Psychology & Co-director, HECC
Dr. Ara Norenzayan joins Drs. Eric Eich, James Enns, Liisa Galea, Geoff Hall, Steven Heine, Alan Kingstone, and Sheila Woody as UBC Distinguished University Scholars.
---