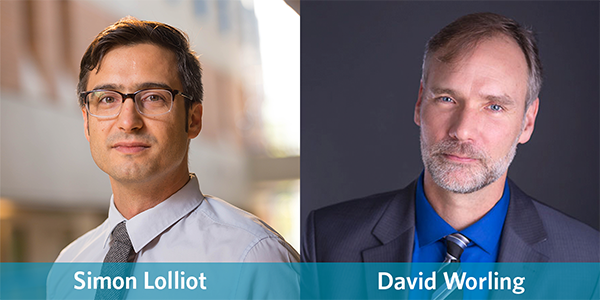 We are pleased to announce Dr. Simon Lolliot and Dr. David Worling are the recipients of the 2018 Robert E. Knox Master Teaching Awards.
Each year, the Department of Psychology recognizes the contributions to teaching and learning made by two outstanding individuals in the department through the Knox Teaching Award. This award celebrates psychology faculty and lecturers whose teaching practice is exceptional and inspires student learning.
Dr. Simon Lolliot, instructor 1 in the department of psychology, is the recipient of the Faculty Award. Dr. Lolliot received a Rhodes scholarship to the University of Oxford, where he completed his doctorate in social psychology. Following Oxford, he joined UBC as a postdoctoral researcher and a teaching instructor, before becoming Instructor 1, a tenure-track teaching position at UBC.
"Prof. Lolliot's lectures are high-energy and engaging. He uses stories/examples to help you effectively remember each concept, as psychology involves a lot of memorization. Highly recommend taking his class! Super interesting, and he's such a relatable guy!"
UBC Psychology Student
Rate My Professor
Dr. David Worling, a sessional lecturer in the department of psychology, received the Sessional Award. Dr. Worling has worked extensively with individuals on the Autism Spectrum for the past 25 years. In addition to providing diagnostic and learning assessments, he has developed innovative treatment protocols for social competence, self-coping, depression, and anxiety. He began the Westcoast Child Development Group in 2003 and is now in a full time private practice.
"David Worling is an amazing prof. I have never been so excited to go to a lecture heavy class. It was incredibly interesting all the way through and he even brings in a few guest speakers to help increase your understand. Exams are somewhat difficult, but study the details and you'll be fine. Highly recommend taking his course on Autism."
UBC Psychology Student
Rate My Professor
Please join us in congratulating Dr. Lolliot and Dr. Worling on their 2018 Knox Teaching Awards!