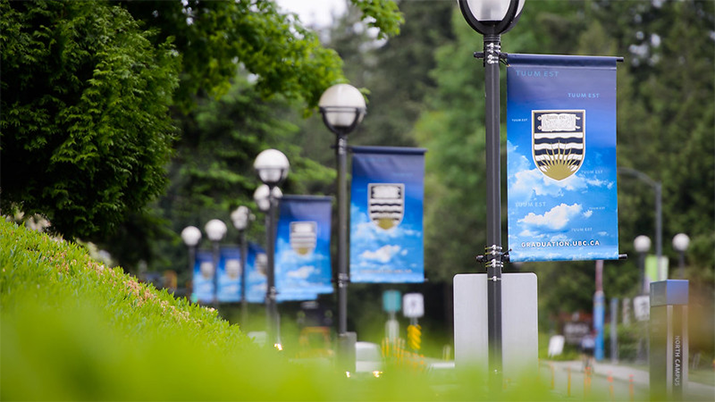 We congratulate the graduating psychology masters and doctoral students who officially graduate—and join a community of over 14,000 psychology alumni around the world.
Two of our graduates share the highlights of their academic journey, the people that inspired them, and advice for others considering graduate studies. Read their responses below.
---
Valerie Lo (she/her), an MA student in the Behavioural Neuroscience Area, is among those graduating at UBC's first in-person spring ceremony since 2019. Valerie's advice for others considering graduate school is to make sure to study what interests you. For her, that is her thesis Androgen Modulation of Behavioural Flexibility in Male Rats. Valeries' research provides more insight into the potential role of androgens in behavioural flexibility in male rats.
Valerie shares why she chose UBC and to work with Dr. Kiran Soma, and she offers words of wisdom for future graduate students.
Why did you choose to study at UBC Psychology? 
I chose UBC Psychology because I wanted to continue the research I had done in my undergrad, and I also love Vancouver.
What drove you to study your line of research?
For most of my undergrad, I worked with a teenager with autism spectrum disorder (ASD). Because of this, I was interested in learning more about behavioural flexibility, a common symptom of ASD, and potential factors involved from an endocrine perspective.
Is there a single moment or highlight or person in your academic journey that stands out?
My supervisor, Dr. Kiran Soma, stands out in my academic journey. He has been an amazing mentor over the last two years. He has been incredibly supportive every time I encountered obstacles in my projects (which was many, many times!), guiding me to problem-solve calmly instead of panicking. He has also been extremely supportive and encouraging of my personal growth and life goals. He is quick to give great advice and wisdom. Not only is he a great mentor, he is also a great friend with so many hilarious stories to share! Without Kiran's advice and friendship, I would not be the person I am today and for that, I am incredibly grateful. I think everyone deserves to have a Kiran in their life! 🙂
What advice do you have for others considering graduate school?
Of course, do your research and make sure what you are studying is something you are interested in! But also, it definitely pays to have a great mentor. I would recommend anyone considering graduate school to look into research supervisors they are interested in and their mentorship style. You can do this by chatting with the supervisor and also reaching out to graduate students to ask about their experiences. Like anything worth doing, graduate school is hard! But it's not as hard when you have a great mentor to guide you through the process.
---
Natasha Pestonji-Dixon (she/her), is a PhD student in the Cognitive Science area. Natasha's research explores the Cognitive-Affective Mechanisms of the Mere Exposure Effect. Her work provides new insights into the cognitive-affective underpinnings of the mere effect, a psychological phenomenon where people prefer people or things because they are familiar.
Natasha touches on the psychology faculty and her peers who were part of her academic journey and offers advice for future graduate students.
Is there a single moment or highlight or person in your academic journey that stands out? (and why)
It would be impossible to highlight a single person! I am so thankful for my supervisor, Peter Graf, for his support, wisdom, and encouragement throughout every step of the PhD process. I am thankful for my teaching mentors in the department, Catherine Rawn and Steven Barnes, for helping me discover my passion for teaching and giving me opportunities to work on some amazing projects. And I am thankful for my labmates, without whom this whole process would have been much less fun!
What advice do you have for others considering graduate school?
Take advantage of all the opportunities you can while you're a graduate student. There are so many interesting projects, committees, and workshops to get involved in, both in the department of Psychology and at UBC as a whole.
---
UBC Psychology PhD students Meighen Maria Roes and Taeh Haddock are also graduating in spring 2022.
Congratulations and all the best to the graduating Class of 2022. We celebrate your accomplishments and commend you on your incredible resilience!