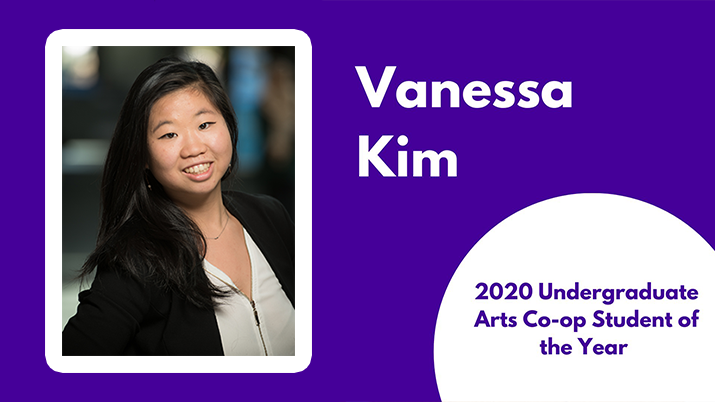 Vanessa Kim, a UBC Psychology student, has been honoured as the 2020 Arts Co-op Undergraduate Student of the Year. This award recognizes students who excel in their co-op work terms and make important contributions to their community, academics and the Arts Co-op Program.
Kim completed her work term with Dixon Transition Society where she managed social media campaigns, solicited donations and put together the 2019/2020 Annual Report. She was heavily praised by her supervisor on her accomplishments and work ethic. Learn more about Kim's community involvement below.
"With limited work experience, I had no idea what I wanted to do with my Psychology degree. But my co-op term with Dixon Transition Society opened up new opportunities for me that I had never considered. I am so grateful and honoured to be receiving this recognition."
Vanessa Kim
UBC Psychology Undergraduate Student
We congratulate Vanessa Kim on this recognition!
---
Vanessa Kim
Excellence in the Workplace

During her term as Community Worker at Dixon Transition Society, Vanessa worked alongside the Communications & Development Coordinator by conducting social media campaigns to raise awareness about domestic violence, developing the 2019/20 Annual Report, and soliciting donations from approximately 200 businesses for fundraising campaigns like the Scotiabank Charity to support the continued operation of Dixon's transitional housing programs. In this role, Vanessa secured over $2,000 worth of sponsorships and identified an opportunity to apply to the Chapman and Innovation Grant for $10,000 to help women gain control over their lives by aiding them in attaining their driver's license.
Vanessa was praised by her supervisor, Jianna Faner, for her confidence and maturity, as well as the high quality of her deliverables. She took creative ownership and utilized her advanced InDesign skills in designing and publishing an Annual Report that was not only clear, professional, and well-organized, but also beautifully designed. Vanessa also went above and beyond expectations when she was asked to create a quote for how much it would cost for a complete care package for women moving out of Dixon's transitional housing programs. She presented a detailed document with various options, including her recommendation based on price, quality, and what the needs of the women and children were. Her efforts not only allowed Jianna to focus on writing the case for support from the grantor, but also helped to increase the grantor's confidence in Dixon by showing them they had done their due diligence.
To top off Vanessa's many achievements, Jianna remarked that she "would have considered it a great benefit to Dixon if Vanessa could have succeeded me in my role, as the organization's sole communications and fundraising staff member."
Community Involvement

As a direct result of her sensitive and rewarding work at Dixon, Vanessa strengthened her interpersonal skills and enhanced her capacity to take on leadership roles, such as Co-Chair for the 2021 Multidisciplinary Undergraduate Research Conference. She has also served as the Marketing, Branding, and Sponsorships Chair for UBC Undergraduate Research Opportunities, where she organized marketing campaigns on Facebook and Instagram to increase awareness of URO's programming.
Growth beyond the Classroom

Vanessa's term at Dixon broadened her perspective on the career paths she could pursue with a Psychology degree. As a Psychology major and International Relations minor, she is particularly interested in how marginalized populations address issues within their communities. In her outreach to business owners and development of social media campaigns, Vanessa gained experience in community mobilization efforts and approaches to community development. In this communications role, she also discovered an affinity for designing graphics and social media campaigns, compelling her to consider a master's degree in communications so she can continue supporting the empowerment of marginalized communities.
About the UBC Arts Co-op Student of the Year Award
The annual award recognizes outstanding achievement in all aspects of the UBC Arts Co-op student's performance, including academic achievement, job achievement/employer evaluation, personal statement, contribution to co-operative education, and contribution to extra-curricular activities.
This article is republished from The Arts Co-op Program. Read the original article here.