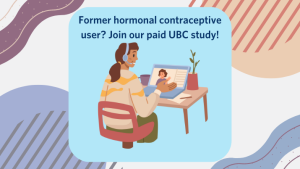 Social Health Lab is recruiting female participants aged 19-27, who have used hormonal contraceptives at some point in the past.
How do hormones affect females' response to social situations like mock job interviews? Help the Social Health Lab to find out!
Study Description:
The Simulated Online Interview Study examines how current or past use of hormonal contraceptives, such as birth control pills and hormonal IUDs, affect females' responses to an online mock job interview.
If you are female, between the ages of 19-27, and have at some point in the PAST used hormonal contraceptives, you might be eligible for this study.
Study Procedure:
You will first be asked to complete a 5-10 minute survey that will assess your eligibility.
If you are deemed eligible, you will be invited to a Zoom session during which you will complete a mock job interview, answer some questionnaires, complete a brief interview, and provide saliva samples for later analysis of hormone levels.
Location:
This study will take place over Zoom and requires a time commitment of approximately 3 hours.
Eligibility:
Females between the ages 19-27 who have used hormonal contraceptives at some point in the past, are invited to take the brief eligibility survey.
What will you get?
Participants will be reimbursed $30 CAD for their time.
How to participate?
Questions?
Contact socialhealthlab@psych.ubc.ca to find out more.