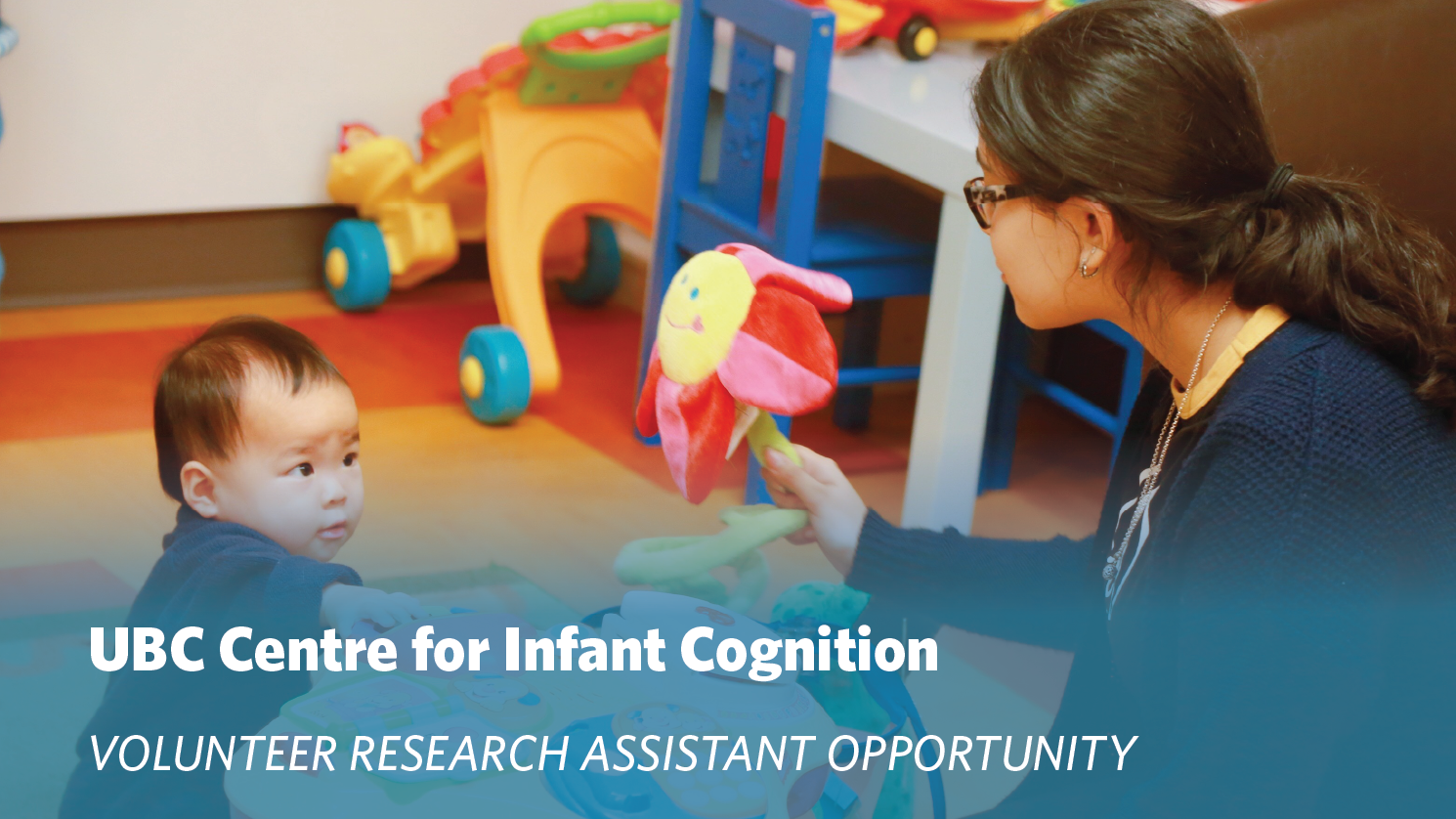 New Opportunity:
UBC Centre for Infant Cognition is currently looking for motivated undergraduate students who are interested in volunteering as research assistants.
About the Lab:
The Centre for Infant Cognition's research explores the origins of social and moral thought from a developmental perspective. In particular, we examine our tendency to judge individuals' actions as good or bad, as deserving of reward or punishment, and as morally praiseworthy or blameworthy. We ask whether and how these social and moral evaluations influence our understanding of others' future acts, their mental states, and their underlying personalities. We also study how these evaluations affect our willingness to perform prosocial behaviours.
We examine these questions using preverbal infants and young toddlers, in order to study the foundational origins of these processes before complex cognitive abilities (such as language and inhibitory control) fully develop, and prior to the influences of cultural norms and values.
Requirements:
Looking for motivated undergraduates who:
Are interested in social cognitive development
Would love to work with infants and young children
Are able to begin starting August 29th
Responsibilities:
Some opportunities you'll have in this role are as follows:
Maintaining ongoing positive relationships with participating families including contacting families and scheduling appointments using a research database
Setting up experimental equipment according to prescribed protocols (e.g. Eye-Tracking devices and recording materials)
Completing the consenting process with participating families
Administering studies and assessments according to prescribed protocols
Entering data into a research database according to established protocols
Time Commitment: 10 hours a week for at least two terms.
Apply:
To apply, interested applicants should send the following items to hamlinlab@psych.ubc.ca
Cover letter
Resume
Unofficial transcript (e.g. SSC grades)
Availability 9-5 (Mon – Sat)
Applications are accepted on a rolling basis, the sooner the better!