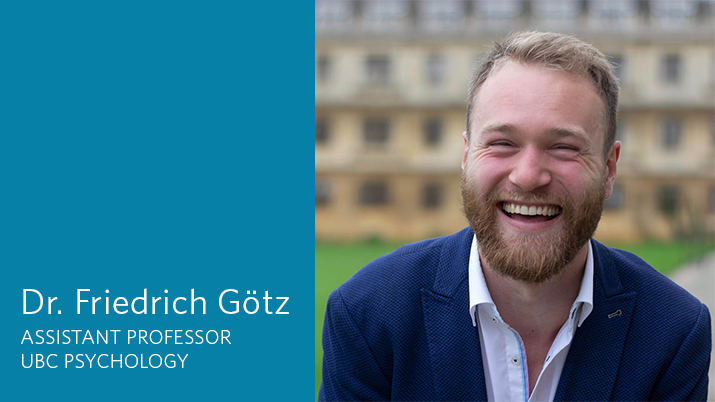 Following an around-the-world academic journey, Dr. Friedrich Götz joins UBC Psychology as assistant professor in the social personality area.
Dr. Friedrich Götz' research focuses on the geographical differences in psychological characteristics, tracing the historical sociocultural causes of present-day regional differences in personality and values. He is excited to collaborate with researchers across the globe to better understand the impact of regional differences—not only in a western context.
"I'm currently really excited about is broadening the geographical horizon of geographical psychology. The social sciences suffer from a staggering overreliance on data from North America and psychology is no exception. However, if we really want to understand something about humanity, we need to study all of humanity, not just a small, often WEIRD (western, educated, industrialized, rich, democratic) fraction of it."
Friedrich Götz
Assistant Professor, UBC Psychology
In a Q&A, Dr. Götz shares how his travels influenced his studies, how his work was sparked by reverse-engineering Harry Potter's sorting hat, and his fascination with incorporating AI into psychological research.
Join the department of psychology in welcoming Dr. Götz!