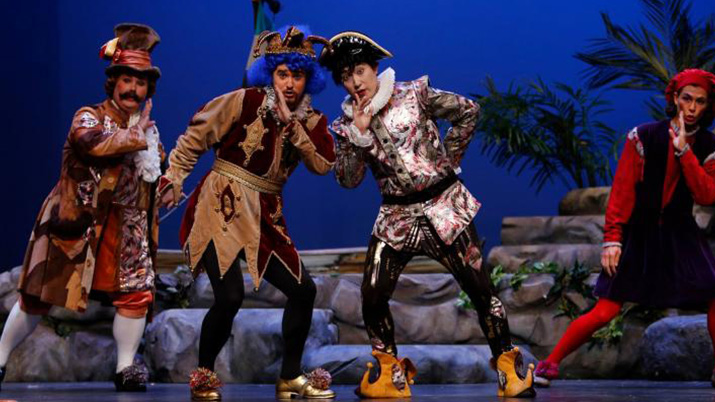 A new multi-faculty project holds the key to understanding how opera shapes learning and cognition.
The project itself, spearheaded by director of UBC's Opera Ensemble, Nancy Hermiston, is the first of its kind between the university and the Peter Wall Institute. Dr. Janet Werker, University Killam Professor and Canada Research Chair in Psychology, is one of eight principal investigators involved in the study.
"The Wall Opera Project came from an idea that Nancy has had for a very long time; that opera training helps train the mind," Werker said. "Nancy also had the hypothesis that opera training is helpful for students with learning disabilities by helping to establish the cognitive control skills to excel nonetheless."
In opera, you don't just learn to sing but you also learn to sing in multiple languages while moving on stage, interacting with your cast, interacting with the audience and following the conductor. As Werker put it, "It's physically demanding. And it's so multifaceted."
"I love working on this project."
Dr. Janet Werker
University Killam Professor
Werker joins some of UBC's brightest scientific minds, including but not limited to, Dr. Lara Boyd, Dr. Robin Hsiung, Dr. Rachel Weber, and Dr. Alex MacKay. The researchers span four different faculties and seven departments within the university.
"I love working on this project," Werker said. "And I think the idea that Nancy has is absolutely brilliant. But it requires an interdisciplinary team to work on it."
The Peter Wall Institute generously supported the project to ensure its success during the study's multiyear timeline. According to Werker, the team requested three years of funding and were given two years of funding with the possibility of extension after an evaluation.
"This project is one of the collaborations I am involved in through the Language Sciences. I helped in the scientific design, and I helped in writing the proposal," Werker confirmed. "We will have hired two postdoctoral fellows to work on the project."
"They're doing some pilot testing right now."
Dr. Janet Werker
University Killam Professor
One of these is Anja Xiaoxing-Cui, who is currently completing her PhD at Queens University in Music Cognition and will begin working closely with Werker in August 2019.
Werker explained that, along with Xiaoxing-Cui, she will be working with university students prior to and right after they begin their training in the opera program. Part of opera training involves an intense, four to six-week language learning program, making this a critical time in the study.
"If they're going to be putting on an Italian opera, it's in Italian. If it's a German opera, then it's in German," Werker said. "Thus, we'll be measuring – before and after training – the behavioral performance."
A comparison of results amongst several control groups will demonstrate how full opera training, with its extreme multitasking, affects the brain differently from those without training and those who solely partake in dance, sports, singing or language acquisition.
As for Werker's next steps, she alludes to the idea that the following months are the most important and the most exciting.
"They're doing some pilot testing right now, just with some of the executive function tasks. And we'll work out the design, come back, look at the data together, and then finalize the design for this fall that will include the neuroimaging component when there are new students starting in the opera program."
–Dannielle Piper
Related: