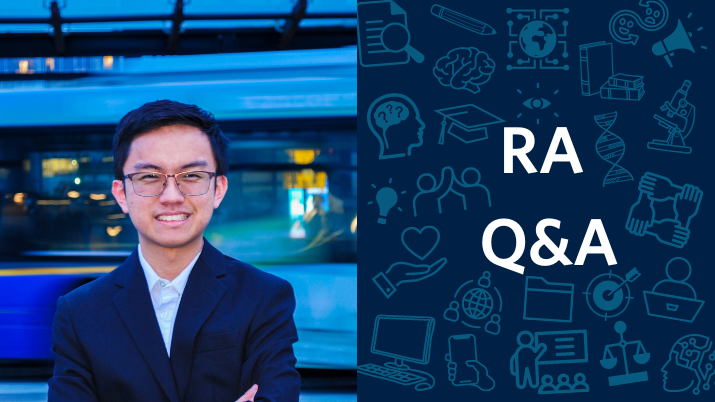 Have you ever wanted to see concepts from your psychology classes take place in real-time? Or wondered how a study makes its way to our HSP postings? Research Assistants like Theodore Yu are addressing these questions (and more!) through their work in UBC Psychology's various research labs.
By Madeline Renner
Theodore Yu wanted to bring his studies in psychology to life, and see knowledge from his courses in action in a lab setting. This led him to work as an RA at the Memory and Imagination Lab.
Theodore works with the Memory and Imagination Lab as a research assistant and as a directed studies student. Led by Dr. Daniela Palombo, the Memory and Imagination Lab explores behavioural and neural factors associated with how we form and retain autobiographical memories, how memory varies across individuals, and the effects of emotion on memory. The lab approaches their studies from a multifaceted standpoint, combining behavioural research with structural and functional neuroimaging.
Theodore is a third year undergraduate psychology student at UBC. When he is not studying or working in the lab, he enjoys filming and editing various videos — mostly transit-related (something he knows well as a student with a four hour daily commute!). He is currently working on a series called "23 questions UBC Professors" for UBC alumni, is involved with UBC's PhotoSOC, and runs social media accounts for three different clubs on campus.
What intrigues you about this lab's research?
Lab research is beyond what we learn in standard psychology classes. Each research lab employs all the concepts in a different setting. For example, here at the memory and imagination lab, we conduct affective research through VR experiments, testing our different teaching methods and how that could impact memory in the short and long term.
Do you have advice for other students who want to get involved in research?
Absolutely! As you might have heard, it is competitive. But it is not just about grades! There is indeed a minimum average of 75% in a lot of the labs. But beyond that it is all about the experience you bring, and the type of person you are. For experience I don't mean lab experiences, but personal ones. What you do outside of school, volunteering, work and the set of skills that you have. Different RA positions may really need the unique skillset you have!
What is your favourite part of working as an RA?
Working alongside grad students and seeing the immense effort put in before a study can be posted onto HSP. Being a part of the planning, executing, and experimental process is a once in a lifetime opportunity.
How do you see this field of research changing in the next few months or years? How do you see student involvement changing?
I can confidently say that the Memory and Imagination Lab has a lot of expansion spaces since research is focused on using new tech in psychology experiments. In the next few years, I predict that more and more psychology research will transition into a virtual world allowing more realistic stimuli with minimal risk to the participant.