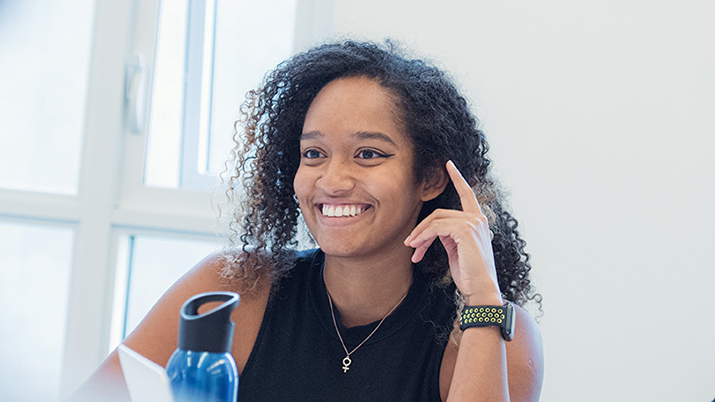 Join us in congratulating Lucy De Souza, a PhD candidate in the Social Identity Laboratory, who received the Society for Personality and Society Psychology's (SPSP) Jenessa Shapiro Graduate Research Award. SPSP will be honouring the award recipients at the Student Awards Ceremony during SPSP's Annual Convention in New Orleans.
The Jenessa Shapiro Graduate Research Award provides assistance to graduate students from an underrepresented background with the cost of conducting research in personality and/or social psychology.
"I'm grateful to be among some amazing BIPOC peers in receiving this particular award. I had the chance to meet Jenessa a few years ago; she was not only a spectacular social psychologist, but also a wonderful person."
Lucy De Souza
PhD Candidate, UBC Psychology
About Lucy
Lucy De Souza is a PhD student in the Department of Psychology at UBC. Drawing from intersectional and Black feminist theory, Lucy's research focuses on how race/ethnicity may distinctively shape women's experiences/perceptions of women in male-dominated spaces, such as in STEM fields.
Her research also revolves around understanding allyship, mainly investigating the social-psychological factors that may inhibit men from confronting sexism and the benefits of cross-gender dialogue in the workplace.
Lucy is a part of Engendering Success in STEM, a research consortium devoted to testing the long-term efficacy of interventions that harness the power of positive social interactions to mitigate subtle gender bias.
About the award
The Jenessa Shapiro Graduate Research award is named in memory of UCLA professor Jenessa Shapiro, who thought it was extremely important to promote diversity and inclusion in her lab, at the university, and in the field more generally. Shapiro took concrete actions and engaged in a variety of activities to contribute to the goals of diversity, inclusion, and social justice.