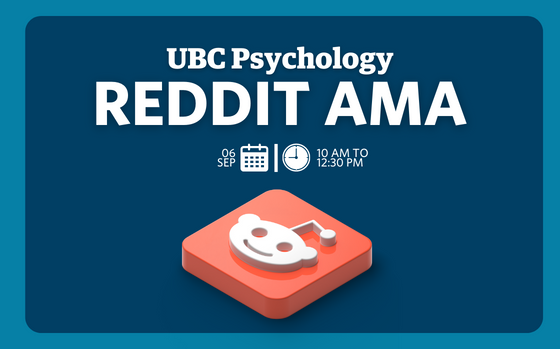 Back by popular demand, UBC Psychology is hosting another "Ask Me Anything" on Reddit as part of our Imagine UBC events and activities.
We invite new and returning students to join us and ask us questions about our programs, student resources, research opportunities, life as an RA, student clubs, and much more, in real time.
A diverse team of people from the psychology community—including faculty, students and staff—will be responding to your questions from u/UBCPsych.
Stay tuned to learn more about the panelists and the types of questions they can answer!
Faculty
Andrew Baron, Professor and Area Coordinator
UBC Psychology Kiley Hamlin, Professor
UBC Psychology Jay Hosking, Lecturer and BSc. Behavioural Neuroscience Program Advisor
UBC Psychology Lillian May, Lecturer
UBC Psychology Catherine Rawn, Professor of Teaching and the Associate Head, Undergraduate Affairs, UBC Psychology
Eva Zysk, Lecturer, UBC Psychology
Students
Maria Clara Brandao, graduate student
Jimmy Chokmeesuk, 4th year BA Honours Psychology Student and Interpersonal Development minor; President, Psychology Students' Association
Marta Kolbuszewska, 2nd year clinical psychology MA student
Charul Maheshka, undergraduate student
Kateryna Voznyuk, 4th-year BSc Behavioural Neuroscience student, Co-President, UBC Psi Chi Undergraduate Honor Society
Kelly Yu, graduate student
Sneha, undergraduate student
Miriam, undergraduate student
Staff & Alumni
Gian Hermosura, BA Psychology and Family Studies (2022), Lab Manager, UBC Depression, Anxiety, & Stress Lab, Recipient of the Quinn Summer Research Assistantship Award
Joyce Lai, undergraduate program
Tara Martin, Director, Administration, UBC Psychology
Sarvenaz Oloomi, BA Psychology (Hons.) (2022), Research Coordinator, UBC Early Development Research Group
Faculty
Andrew Baron (he/him)
Dr. Baron is a Professor in the Department of Psychology at UBC. His work intersects social, cognitive and developmental psychology to explore the origins and development of social group bias. His lab conducts research both on UBC's Vancouver Campus and in the Living Lab at Science World. Some current research explores the development of gender bias in STEM, children's understanding of structural inequality and reasoning about social status and social hierarchies. He regularly teaches PSYC 315 and PSYC 413 (Distance learning course). He also consults with marketing research companies to apply methods from psychology to help businesses improve their product and brand advertising.
Ask me about:
Research opportunities in psychology
Developmental psychology area/courses
Pursuing a graduate a degree in psychology
The New England Patriots (and/or Tom Brady)
State secrets and other classified information
Kiley Hamlin (she/her)
Dr. Hamlin is a Professor in the Department of Psychology at UBC and Canada Research Chair in Developmental Psychology. Her work explores the earliest developmental origins of the human moral sense, by examining precursors to moral cognition and action in preverbal infants.
Ask me about:
Psychology Honours program
Research opportunities in psychology
Developmental psychology area/courses
Lily May (she/her)
Dr. May is a Lecturer in the Department of Psychology. Prior to becoming faculty at UBC, Lily completed her PhD in UBC's Psychology department studying language development in infants. Now as a lecturer, Lily spends most of her time teaching– primarily in courses all about developmental psychology. Lily also has three young kids at home, meaning that when not ~teaching~ about cute kids and babies, she can typically be found ~parenting~ cute kids and babies!
Ask me about:
Undergrad classes
Approaching and talking to professors
Equity, diversity, and inclusion in Psychology
Life as a UBC Psychology grad student
Kids and babies (and developmental psychology)
Reality TV
Catherine Rawn (she/her)
Dr. Rawn is a Professor of Teaching and Associate Head for Undergraduate Affairs in the Department of Psychology, as well as the Chair of the Curriculum Committee for the Faculty of Arts as a whole. She regularly teaches students in the required research methods and statistics sequence (PSYC 217 and 218). She is a co-author on the textbook used in PSYC 217, and has published scholarly work on two-stage exams, student engagement in large classrooms, student evaluations of teaching, and the role of teaching-focused faculty at large research-intensive universities in Canada. Catherine was raised primarily by her grandmother, and was the first person in her family to attend university.
Ask me about:
First generation student experience
Evidence-based study and test-taking strategies
Making the most of office hours
Preparing for PSYC 218
Strategies for choosing electives
The best and worst parts of my job
BC wine
Eva Zysk
Dr. Zysk is a Lecturer in the Department of Psychology. Her research interests include contamination fears in OCD, virtual reality therapy for Social Anxiety, and student presentation anxiety. She has received awards for her teaching, including the Vice Chancellor's Teaching Award. She is passionate about helping students settle into and enjoy university.
Ask me about:
Student transitions into university
Student presentation anxiety
University motivation, time-management & hacks
How to succeed at university
Mental health and wellbeing
First Year Psych classes
My own experiences as a UBC undergraduate
Post-graduate programs in the UK
Students
Jimmy Chokmeesuk (he/they)
Jimmy is a 4th-year BA Psychology student who is also minoring in Interpersonal Development under the faculty of education at UBC and the president and former vice president of academics of the PSA. With the PSA, Jimmy hopes to create events that allow people to meet, connect, socialize and learn each other's stories, with a hope to ease their stress and make their university journey more enjoyable. Additionally, in their recent President position as the Thai genderqueer, disabled person on the PSA executive team, they commit to continuing my passion for building a more equitable and inclusive environment by introducing new committee: Equity committee, which will be launched in early September. Jimmy is currently working as an undergraduate academic assistant at Stigma and Resilience Among Vulnerable Youth Center (SARAVYC) and was the former volunteer at UBC Social Health Lab and Depression, Anxiety and Stress (DAS) lab. They are passionate about psychopathology and its psychotherapy, in which he hopes to better the health care system and psychotherapy that overlook transgender, non-binary, and gender-nonconforming people's diverse lived experiences. Jimmy also takes inclusion and diversity very seriously to ensure that he does not leave anyone on this journey alone. In his spare time, they love reading a good book, cooking Thai food and volunteering at a non-profit organization.
Ask me about:
Psychology Students' Association Details, events and membership
Life in Psychology, BA major, Honours and Minoring in Interpersonal Development (Counselling Psychology)
Balancing Class Work, Volunteering, Work, and a Social Life in University
Working at SARAVYC as an undergraduate student
Volunteering in labs (Social Health Lab and DAS lab) Life at UBC as a transgender, queer person of colour
Kateryna Voznyuk (she/her)
Kateryna is the Co-President of UBC Psi Chi Undergraduate Honor Society. She is also a 4th-year BSc Behavioural Neuroscience student, IMES and OIS recipient, and former Vice President External for UBC Psi Chi. She is also a clinical recruiter, research assistant, and EDI committee member for the Depression, Anxiety, and Stress (DAS) Lab and a program volunteer on behalf of the BC Brain Wellness Program. Kateryna has diversified her academic experience as a research assistant for UBC labs (Ciernia, DAS), research mentee for UBC clubs (URO/REX, Indicium STEM Competition), volunteer for external organizations (VBIA, BC BWP, Be My Eyes), and UBC conference presenter (MURC, PURC, and PATHS to a Cure: Neuroscience Research Conference). She is very passionate about drawing from these experiences to offer advice for students exploring research and volunteering, wherever they are in their academic journeys. She is also eager to help international students in managing homesickness and balancing life in a new country. Outside of academics, Kateryna loves hiking and exploring local fauna/flora, reading non-fiction, alpine skiing, and looking for the best waffles in Vancouver!
Ask me about:
Undergraduate research positions: applications/interviews, resumes/CVs/transcripts
Outreach and networking: conferences, LinkedIn, cold emailing, building connections
Volunteering outside of UBC for local Vancouver organizations
International student living, networking, managing homesickness, balancing commitments
Details about UBC Psi Chi and membership
Any of my undergrad or high school experiences!
Marta Kolbuszewska (she/her)
Marta is a second-year MA student in clinical psychology in the Department of Psychology at UBC. She is a member of the Sexuality and Well-Being Lab where her research interests centre around understanding individual and relational processes that contribute to sexual dysfunction and sexual well-being. She is particularly interested in using quantitative methods to better understand how these processes unfold over time for individuals and couples. She is also a research assistant in the Coping with Neurological Symptoms Lab at UBC. Marta came to UBC after two undergraduate degrees - one in psychology and statistics, and one in history. She values interdisciplinary collaboration.
Ask me about:
Seeking out research opportunities in psychology
Applying to graduate school in clinical psychology
Finding work-life balance
Quantitative methods
Learning to code!
Learning statistics!
Staff and Alumni
Gian Hermosura (he/him)
Gian  received his B.A. in Psychology with a minor in Family Studies in May 2022. He is the lab manager of the Depression, Anxiety, & Stress Lab where he delegates tasks to research assistants, has administrative duties such as organizing meetings and workshops, and manages the lab's grants and finances. As a staff member, he is familiar with applying for paid research assistant and lab manager positions. Additionally, he has been a part of 7 research labs over his 5 years as an undergraduate student including the Peer Relationships in Childhood Lab (clinical psychology), the Motivated Cognition Lab (cognitive psychology), and Culture and Self Lab (social psychology). He has completed one 6-credit Directed Studies and two 3-credit Directed Studies in psychology. He is very familiar with a variety of research assistant tasks and the process of applying to a lab. As someone who changed his degree in the middle of his undergrad, he knows what it is like to be uncertain of the future and how to find resources to ensure success as an undergrad. As a student, he lived on campus for 3 years and commuted for 2 years.
Ask me about:
Being a research assistant and how to apply to a lab
General lab experience and what to expect
Applying for paid research assistantships and lab manager positions
Directed Studies in Psychology and how to make the most of it
Changing degrees/programs
Minoring in Family Studies
Courses in Psychology, Family Studies, and Sociology
Life living in Residence and as a commuter, and balancing academics and social life
Tara Martin, Director, Administration
Tara has been the Director, Administration for UBC Psychology since 2011. Starting way back in 2000, she was a transfer student to UBC, and completed her BA in Psychology and International Relations while holding jobs off campus, taking on WorkLearn assignments, and volunteering with the PSA. After graduating, she started a CUPE 116 Research Assistant position with UBC Psychology, and later moved into a lab manager role. In 2018 she completed UBC's Master of Education program, focusing on Higher Education. In her spare time, she enjoys gardening, all winter sports, and spending time with her family & pets.
Ask me about:
My own experiences as a UBC undergraduate (WorkLearn, volunteer RA, PSA)
My own experiences as a transfer student to UBC, and later as a mature student
Applying for student jobs and paid research opportunities (NSERC, URSA)
Study spaces on campus & being a commuting student
Sarvenaz Oloomi
Sarvenaz is a recent graduate from UBC's Psychology Honours program (2022), who currently works as the research and recruitment coordinator at the Early Development Research Group (EDRG) where she coordinates between the seven developmental labs in the department. She is also currently a research assistant in the Anxiety, Stress, Autism Program (ASAP), Depression, Anxiety, Stress Lab (DAS), and research lead at the Infant Studies Center. During her time at UBC, she had worked as a TA in the Asian Studies and Psychology departments, worked as a Peer Academic Advisor at the UBC Arts Advising Office and as a president and executive in many student clubs. She also completed one of her honours thesis in a UBC psychiatry lab (PAR lab) and has worked as an NSERC USRA research student. In her free time, she loves to make music, read books, play basketball, and she has a pet parrot.
Ask me about:
Balancing school, work, and research (including WorkLearn and extracurriculars)
Getting involved in research and finding your research passion
Being a commuter student and living on campus
How to navigate job/volunteer applications and interviews
How to prepare for graduate school (i.e. honours, volunteering, how to stand out)
How to excel in academica (e.g., Test taking/essay writing/assignment)
Mental health as a university students
Extracurricular at UBC (student clubs, sports, music, etc.) and anything else you are curious about!
We acknowledge that UBC's Vancouver Point Grey campus is situated on the traditional, ancestral, unceded territory of the xʷməθkʷəy̓əm (Musqueam) people. We also acknowledge that people are joining this event virtually from many places, near and far, and acknowledge the traditional owners and caretakers of those lands.