The Psychology Equity Committee provides an overview of what happens when someone makes a complaint of sexual misconduct at UBC.
This overview provides descriptive information about what does happen to complaints of sexual misconduct at UBC. It is neither an endorsement nor a criticism of the existing policy.
The infographic below (thanks SVPRO) sketches out various scenarios, and you can read the full policy here. In brief, a person who discloses an experience gets to decide whether to file an official report. Once a report is filed, the policy describes a series of steps that MUST be followed, with each step depending on the outcome of the preceding one. The UBC Office of Investigation first determines whether UBC has jurisdiction to investigate. If so, that office appoints an Investigator who gathers and analyzes the facts to determine whether sexual misconduct occurred. If the conclusion is that it did, a series of legal documents helps determine what the disciplinary action should be.
The policy specifies time limits within which each step needs to take place, but even respecting those time limits, the whole process can take several months. During this time, temporary safeguards can be put in place to prevent the situation from persisting (e.g., depending on the situation, the person against whom allegations have been made may be prohibited from communicating from certain people or classes of people, or have their role at UBC provisionally changed). However, during the whole process (and even afterwards), there are very strict rules limiting the sharing of information, to protect the privacy of everyone involved. This means any reports, investigations, safeguards or disciplinary actions will not be apparent to most members of the UBC community.
The committee stands in solidarity with survivors of sexual violence, and is always interested in talking about ideas and suggestions to make our community safer, juster, and more inclusive.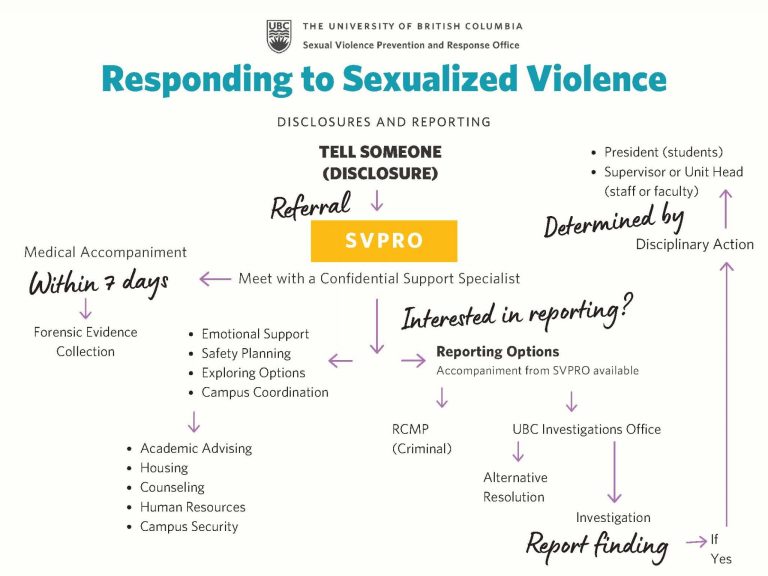 Additional resources